Certification for Beginners: The Process
29 June 2022
This article aims to walk you through the process of achieving certification for your management system(s) and will let you know what you can expect if you are tackling the project for the first time.
From the quality of your management system to the standards governing the health and safety of your workers, ISO certifications are some of the most obvious benchmarks of a business that's serious about maintaining a high-quality product as well as a safe and productive working environment.

The process for management systems certification is straightforward and typically follows a generic process consistent for ISO management systems standards.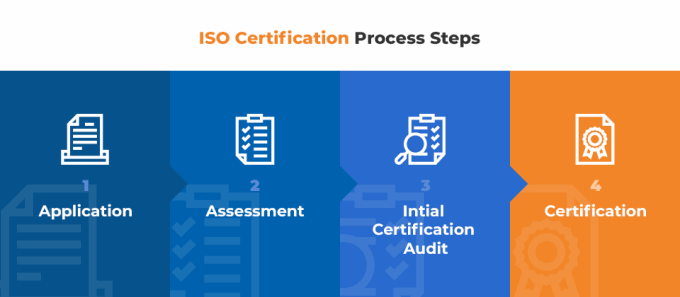 If you are looking to achieve certification for the first time you can expect to follow the below steps:
1. Application
Firstly, you will need to fill in an application form in order for NQA to understand your what your company does, the complexity and its requirements. You can do this online here.

We will use this information to accurately define the scope of assessment and you will then hear from one of our Business Development experts who will provide you with a proposal for certification / quote. They will then talk you though what you need to do and send back to them to get the ball rolling.
2. Assessment
Once you have confirmed, signed and returned all the correct paperwork, your assessments will be booked with an NQA Auditor.

Your assessments will consist of two mandatory visits that form the Initial Certification Audit. These may be remote, on-site or a mixture of the two but you will be made aware of how they will run before they take place.

During these assessments it's important to remember that you must be able to demonstrate that your management system has been fully operational for a minimum of three months and has been subject to a management review and full cycle of internal audits.

*Note: there may be additional requirements for some of the more technical standards – we can advise you of these.
3. Initial Certification Audit — Stage 1
The purpose of your Stage 1 audit is to confirm that your organization is ready for a full assessment. This assessment will be a review of your documentation.

During your Stage 1 assessment, your Auditor will:
Confirm the accuracy of the information that you submitted during the application process

Confirm that the management system conforms to the requirements of the standard

Confirm the implementation status of your management system(s)

Confirm the scope of certification

Verify the evaluation of legal compliance
Following your Stage 1 assessment you will then receive:
A report that identifies any Areas of Concern (AOC's) which, if not addressed, could be raised as non-conformances at your Stage 2 assessment

The scheduling of your Stage 2 assessment visit

An assessment plan for the Stage 2 assessment
4. Initial Certification Audit — Stage 2
The purpose of your second assessment is to confirm that your management system fully conforms to the requirements of your chosen standard. If you undertake site work, or have more than one location that you want included within the scope of your certification then your assessor will also need to audit these activities / locations.

During the Stage 2 assessment, your Auditor will:
Document how the system complies with the standard by using objective evidence

Undertake sample audits of the processes and activities defined in the scope of certification

Visit any remote locations, additional sites or remote activities to evaluate the effectiveness of the management system off site

Report any non-conformities or opportunities for improvement

Produce a surveillance plan and agree a date for the first annual surveillance visit
If the assessor identifies any major non-conformances, certification cannot be issued until corrective action is taken and verified.
5. Certification
Following a successful two-stage audit, it's then determined whether your operations and processes meet the requirements of the applicable standard(s).

Consequently, a certification decision is made and if positive, certification to the required standard is issued by NQA. You will receive both a hard and soft copy of the certificate to enable you to share your certification with third parties to demonstrate the high standards your organization adheres to.
How Long is Your Certificate Valid?
Once certification is obtained the certificate is valid for 3 years. This is maintained through annual surveillance audits (partial audits) and a 3 yearly recertification audit (full system audit).
Surveillance Audits
Surveillance audits are undertaken annually to ensure that compliance to your chosen standard(s) is being maintained throughout the three-year certification cycle.

The frequency and duration of surveillance is dependent on factors including:
Size and structure of organization

Complexity and risk of activities

Number of management systems standards included in the scope of certification

Number of sites listed within the scope of certification
It's important to note that during your surveillance audit(s) you must demonstrate continual improvement. This is a fundamental requirement of all ISO standards and something NQA is a keen ambassador of.
What Happens if your Business Changes During this Time?
We understand that organizations change on a regular basis including locations, activities, and/or fluctuations in head count. We can provide you with all the options to change and adapt your scope / standards / management system to suit your business requirements – we just need you to let us know If anything changes as soon as possible.
Why Hire a Consultant?
There are many situations in which having an experienced ISO certification consultant can help to reduce confusion and lengthy delays that you might not want to deal with.

Separate from qualified certification bodies, consultants can help you assess your current processes and guide you in areas where there may be issues that need to be addressed before certification can be awarded. While hiring a consultant is not a requirement for ISO certification, it serves as an added resource and reassurance that your certification process will meet with success.

For more information and help finding the right consultant for your purposes click here.
Get Certified
At NQA, we have decades of experience helping companies obtain the certification they need to prove their dedication to superior quality, service and overall performance. With standards constantly being published and reviewed, as well as the thousands of requirements that go along with them, you'll want a certification partner that's up-to-date on every last detail.
Top Tips:
Read the relevant Standard(s) – make sure that you have a copy of your chosen Standard(s) to hand and that you have read and understood what it requires you to do.

Assign a team member to lead your certification project – ensure that there is someone who can manage the smooth running of your system and processes.

Select a Certification Body that is UKAS (or equivalent) accredited – this ensures that you get a robust and impartial audit.

There are minor differences for specific standards such as AS9100 (aerospace quality management standard) and IATF 16949 (automotive quality management standard), which we will be happy to explain during your application journey.
Sign up to InTouch - this will provide you with free monthly updates on industry and standard changes.
Ensure staff are available to support the audit as required. Circulate the plan to people that need to be available – particularly important in departments such as Human Resources, where the process and access to records is restricted to a small number of individuals – are these people available at the required time?

Don't worry! Your Assessor is there to work with you and to help you get the most from your management systems.
If you would like to speak to one of our industry experts to start your journey to certification please get in touch and a member of the team will be happy to talk to you.