World Quality Day 2018
12 September 2018
By bringing the focus to trust, World Quality Day 2018 is in one sense asking us to step back and look at the intangibles of what we do — the relationships we nurture as an organization, and the core values of integrity and honesty we promote.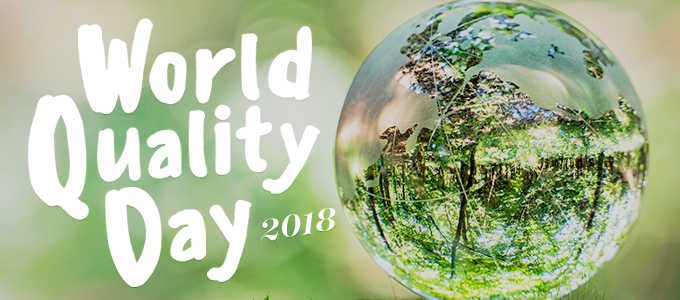 Every year, the Chartered Quality Institute (CQI), along with NQA and other partner organizations, celebrates World Quality Day. 2018 is no exception. This year, World Quality Day — part of World Quality Month — falls on Thursday, Nov. 8. As in previous years, it is a chance to reflect on the role quality management plays in all our lives, and the actions we can take, both as individuals and as members of a team, to develop more effective processes, systems and outcomes.
As longstanding supporters of standardization and quality management, NQA is proud to participate in World Quality Day 2018. On this page, we've prepared an overview of some of the ways you and your team can use this occasion to advocate for the importance of quality in everything you do.
What Is World Quality Day?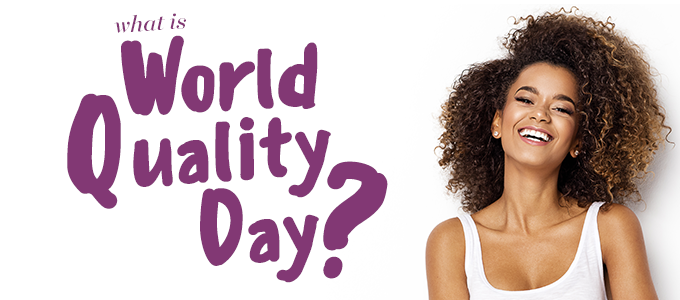 World Quality Day is an annual event held on the second Thursday of November. Though it was first celebrated in 2008, its roots are much older, dating back to the 1919 founding of the CQI. Like World Quality Day, the CQI's mandate is to "advance the practice of quality management in all sectors," with a goal of creating a "world in which all organizations optimize value for their stakeholders through excellence in governance, assurance and improvement." Setting aside a single day each year to promote awareness and encourage education, training and engagement on a global scale was a natural extension of the organization's mission.
Each iteration of World Quality Day focuses on a unique theme related to quality assurance. Previous years' themes have included:
Making Operational Governance Count (2016)
Sweet Dreams (2015)
Building a Quality World Together (2014)
The purpose of these themes isn't to limit the conversation around quality management, but rather to give it focus and provide a lens for discussing broader issues. With that in mind, let's take a look at this year's theme.
This Year's World Quality Month Theme

World Quality Month 2018 addresses the importance of trust — and the role that all stakeholders have in building and maintaining it. As it relates to quality, trust is a vague concept. It is as much an instinctual feeling as it is a product of history and facts. For this reason, it is somewhat of an odd choice for the quality management sector, which deals predominantly with repeatable, measurable steps. By bringing the focus to trust, World Quality Day 2018 is in one sense asking us to step back and look at the intangibles of what we do — the relationships we nurture as an organization, and the core values of integrity and honesty we promote.
Another way of looking at the theme of trust is to consider its relationships to organizational competence. Effective quality management systems build organizational competence, allowing businesses to deliver on their promises and providing a framework for addressing complaints and performance issues when they arise. This, in turn, builds trust among customers, clients, stakeholders and employees.
More importantly, quality management creates a culture in which all participants are invested in a cycle of continuous improvement. In other words, the trust becomes mutual — employees trust they have the tools to do their jobs correctly, management trusts that employees are invested in the process, and customers and other stakeholders trust in the results.
Going Deeper: Building a Trust-Based Culture
As quality professionals, there are several ways we can help build a trust-based culture. These include:
Helping organizations understand the broader context of their customers' expectations
Building engagement and leadership at the management level, to ensure an organization's values and goals align with those of their stakeholders
Enabling stronger operational governance by developing and implementing quality management systems
Helping organizations identify risks and threats to their reputation, and establishing metrics for monitoring their performance on an ongoing basis
Identifying where investments — in new systems, additional training, more staff or other improvements — will deliver the most value
As quality professionals, we work every day to manage risk and build stronger organizations from the ground up. Looking at the role trust plays in this provides a way of contextualizing our work that numbers, audits and performance reports can't.
What You Can Do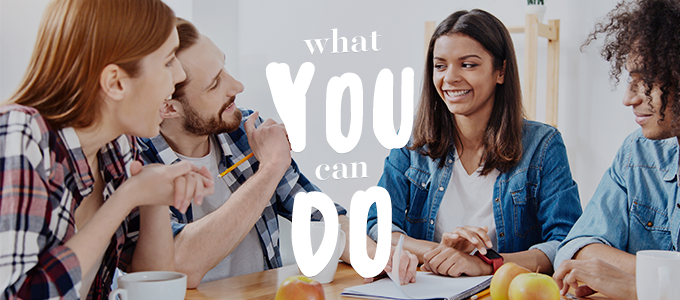 Every organization is different — the way you mark World Quality Day 2018 will vary according to your industry, the size of your operation and the extent of your quality management systems. We encourage you to take the time to reflect on this year's theme and come up with some creative, organization-specific ways of celebrating it. To get you started, here are some ideas that have been popular with businesses in past years:
Hosting an informal training session, such as a lunch-and-learn, about a specific topic related to trust and quality management
Asking employees to nominate trust leaders who have been exemplary in promoting organizational quality and competence
Organizing collaborative projects that highlight quality management success stories from the past year
Ultimately, the theme of trust is just a suggestion — if it doesn't speak to your operation, consider running more relevant programming on a topic that does. The larger aim of World Quality Day is to encourage reflection on the role that quality plays in our lives, to celebrate and learn from past successes, and to find ways to be more quality-focused in the year to come.
Let us know how you plan to celebrate World Quality Day 2018 in the comments below.
More Than Just a Day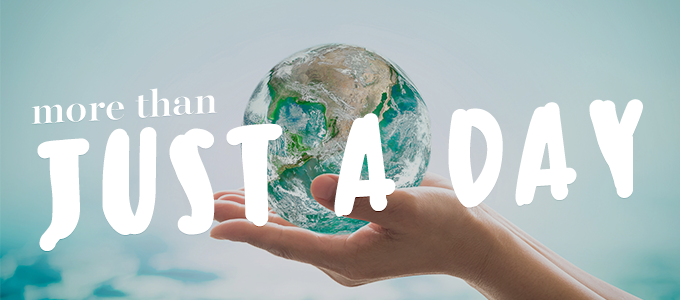 World Quality Day and World Quality Month come once a year, but that doesn't mean quality shouldn't be an ongoing concern. As professionals, it is our job to make quality management and trust-building a part of our daily routine. Certification to ISO 9001 or a related international standard is one of the best ways to begin this process. ISO standards provide a framework for performance monitoring and continuous improvement that applies to organizations of any size.
If you'd like to learn more about the benefits of ISO certification, and the role NQA can play in it, keep exploring our blog or contact us to speak with a representative directly.