Guide to PAS 43
16 April 2018
If your company is involved in repairing, recovering or otherwise dealing with cars on the side of the road, you should be aware of and consider becoming certified to PAS 43.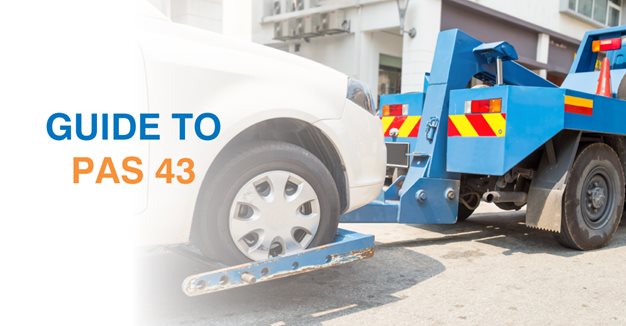 If your company is involved in repairing, recovering or otherwise dealing with cars on the side of the road, you should be aware of and consider becoming certified to PAS 43. This British Standard is designed to reduce safety risks for roadside assistance operators and their customers and increase the overall efficiency of this repair and recovery work.
What Is PAS 43?
PAS 43 is a standard published by the British Standards Institution and developed and sponsored by SURVIVE, a group consisting of police force, government and roadside operator industry representatives. The specification verifies that a company has an adequate management system in place for vehicle breakdown and recovery operations with procedures that comply with legal requirements, meet safety standards and follow best practices. Its primary purpose is to help roadside recovery companies carry out their activities with minimal risk to their employees and customers.


The most recent version of the publicly available management system specification is PAS 43: 2015. It's most often used in Britain and is also seeing increasing use in Ireland. Businesses can become certified to PAS 43 by demonstrating they meet its requirements through an external audit process. Businesses often achieve certification in combination with ISO 9001, the International Standard for Quality Management Systems.
How Did PAS 43 Come About?
In 1998, six roadside assistance workers were killed on the job in Britain. To address the clear safety issues present in the roadside assistance industry, representatives from leading road service companies, including the RAC and the AA, got together to form an organisation called SURVIVE, which stands for Safe Use of Roadside Verges in Vehicular Emergencies. They established the group in March of 1999 with the goal of improving safety for employees and customers at breakdown and recovery sites.
Later, other groups joined SURVIVE, including the Association of Chief Police Officers, Highways England, research bodies and representatives from the haulage, insurance and highway maintenance industries.
In May of 2000, SURVIVE published a report on roadside breakdown and recovery safety. The study found that some companies struggled to provide adequate information and training to roadside operators, the public was unaware of the safety risks of stopping on the shoulder and that there were no standardised practices for the identification or lighting of roadside assistance vehicles.
The report made several recommendations to improve safety, including expanding the use of motorway lighting and rumble strips, standardising relevant information to increase public awareness of these issues and developing a common code of practice for breakdown and recovery operators.
SURVIVE, including both the government and industry representatives, then began creating a specification based on the report's recommendations, which became PAS 43. The specification first went into effect in May of 2002. The standards working group within SURVIVE updates PAS 43 about every two years. It has thus far gone through six revisions, with the latest version published in 2015. The British Standards Institution, or BSI, handles publication of PAS 43.
Why Is PAS 43 Important?
Vehicles that break down along the side of the road cause a potential danger to the driver and their passengers, other drivers and the operators that deal with the repair or removal of the vehicle. They can also contribute to increased traffic congestion.


Efficiently attending to these disabled vehicles, either through repairs or retrieval, helps reduce these risks. PAS 43 aims to make these operations more efficient. They must also be completed safely to reduce risks further. The specification includes standards for conducting roadside work safely.
The United Kingdom Health and Safety Executive (HSE) notes that roadside recovery is a hazardous occupation. While it explains that it doesn't have exact statistics for injury and fatalities because current regulations don't require reporting them, it notes that trade association estimates show that six to eight of the 5,000 workers in the industry are killed on the job every year.
The original SURVIVE report states that 250 injuries or fatalities occur on motorway hard shoulders every year. It also found that the average cost of a fatal car crash is £1M, not including the time lost by other drivers. A delay caused by a collision can cost companies that transport goods by vehicle about £250 per vehicle per hour and even more if the timing of the delivery is critical.
The HSE also notes that three out of five severe vehicle accidents involve a disabled vehicle on the hard shoulder and that, in 1996, 13 of the 165 vehicle accident fatalities occurred on the shoulder.
Who Does the Standard Apply To?
PAS 43 is designed for organisations that operate and purchase roadside assistance services. It applies to organisations that work along the Highways England motorways, such as:
Roadside assistance providers, including vehicle breakdown and recovery operators

Emergency services

Those who work on the roadside for government agencies

Those contracting for these roadside services
While these are the primary groups that use the specification, the courts and HSE also use it as a standard when assessing roadside working practices.
What Does PAS 43 Cover?
The specification describes requirements for minimising hazards associated with roadside assistance incidents to employees, customers and other people who are at the site of the accident. It covers standards for safety in dealing with vehicle breakdown, recovery and removal.
Procedures
PAS 43 lays out safety practices for conducting repairs on vehicles on the side of the road as well as the vehicle recovery and removal process. It also includes various other personal safety and behaviour guidelines for roadside assistance providers. It requires these providers to establish, implement, monitor and maintain standard operating procedures as well as safety management systems. These procedures and systems must meet the requirements of the standard.
It also requires that all employees of these companies receive training to the standards of PAS 43.
Vehicles
PAS 43 also includes guidance on the type of vehicles these operations use. PAS 43 vehicle requirements include rules for vehicle maintenance and the regular testing and certification of all vehicles to ensure they're functioning properly and safely. It requires all roadside vehicle breakdown and recovery operators to inspect and service their vehicles to a pre-determined standard and timetable.



All roadside assistance vehicles must also have standardised safety markings, livery and lighting to make them easily visible and identifiable to people on the roadways. This helps protect the technicians, customers and other users of the road.
Equipment
PAS 43 requires that all roadside assistance companies provide their technicians with protective clothing and equipment to use on the job. The company must properly maintain as well as regularly test and certify their equipment. They must service it according to the agreed standards and timetable.
Premises and Business
The management specification also covers road recovery operators' premises. The company must maintain its premises and keep it organized according to the standard. All roadside repair recovery operators should also have insurance that's up to the standard. PAS 43 also covers companies' record-keeping and documentation.
How Will Pursuing PAS 43 Certification Affect My Company?
The degree to which you will have to change your operations depends on the procedures you currently have in place. You can conduct a gap analysis to determine how much effort, time and resources you will likely have to invest to achieve certification. This analysis will involve evaluating your current processes, analysing the requirements of the standard and identifying any gaps between them.
Depending on the results of your gap analysis, you may find that you have to adjust your training practices, safety management systems, vehicle maintenance schedules, record keeping practices or other areas covered by PAS 43. You might also find that you have to change relatively little. Either way, you will have to conduct internal audits as well as pass an external audit process to earn and maintain your certification.
Whether you have a long way to go or you're almost there, pursuing certification to PAS 43 will be well worth it.
What Are the Benefits of PAS 43 Certification?
Why should you become certified to PAS 43? Even if you already run an extraordinarily safe and efficient business, certification can have benefits, especially if a leading UKAS-accredited certification body verifies it. Here are some of the advantages you'll discover:
1. Improved Safety and Risk Management
Complying with PAS 43 will lead to improved safety for your employees, customers and other people on the scene of an incident. You'll have more certainty that your roadside repair, recovery and removal are always managed safely and effectively. The improved working practices will minimise the risks to the people involved in your operations and to your business. This is especially important because of the inherent danger of working along the side of a busy motorway.
2. Legal Compliance
Adhering to PAS 43 standards will help ensure that you are complying with all related legal requirements. It will give you a better understanding of how regulatory and statutory requirements impact your business and its stakeholders, helping you avoid any potential legal issues.
3. More Efficient Operation
PAS 43 is also designed to help you make your operations more efficient and continually improve them. This improved efficiency is a strategy for reducing risk. Lowering the amount of time a vehicle is disabled on the side of the road reduces the risks and costs associated with the incident. It will also have benefits on the business side of things and improve results for customers.
4. Reduced Operating Costs
Increasing your efficiency reduces your operating costs, since you'll be able to get more done in less time. Keeping your vehicles adequately maintained helps them run efficiently and prevents more expensive repairs. Improving safety and avoiding legal issues by complying with the standards also lowers your expenses.

5. Improved Relationships and Reputation
Increased efficiency, improved safety practices and enhanced performance all lead to more satisfied customers and happier employees. Certification shows them that you value their safety and their time, and the results of following PAS 43 standards will back up that belief. It also makes your organisation appear more professional, further improving its reputation among various stakeholders. This improved reputation will help you to attract more customers, better employees and, potentially, business partners and investors.
6. More Business Opportunities
Many organisations and individuals prefer to work with a company that is certified, especially when it comes to safety. When choosing between two similar companies, most would go with the certified one. Some groups, such as motoring organisations, suppliers, Highways England and the police, even require PAS 43 certification before they will work with you or offer you a contract.
How Do I Get Certified?
At NQA, we offer PAS 43 inspection as a standalone service or as an extension of ISO 9001 registration. Whichever option you choose, the road to PAS 43 certification involves four major steps: application, assessment, certification and maintenance:
1. Application
To apply for registration, you fill out our quote request form on our homepage. If you filled out the formal request form, either email or mail it to us. You can also ask for a call-back or contact our sales team directly. We'll provide you with a quote and discuss your goals and your current situation. Based on this information, we'll decide on the next steps together.
2. Assessment
Next is the assessment stage, in which we will perform an inspection to determine whether your organisation meets the standards of PAS 43. This process includes inspection of all vehicles used for roadside repair or recovery. You must demonstrate that your PAS 43 management system has been in effect for at least three months.
If you're seeking PAS 43 and ISO 9001 certification together, we will make two visits to your facility to perform audits. At the first visit, you must demonstrate that your quality management system has been in effect for at least three months and that you've completed a full cycle of internal audits of it.
The first visit is the initial certification audit, which will determine whether your company is ready for the full assessment. During this audit, the assessor will:
Verify that the quality manual meets requirements

Verify that the systems have been implemented up to standard

Verify the scope of the certification

Verify legal compliance

Provide you with a report identifying any non-compliance or potential non-compliance as well as a corrective plan if necessary

Produce an assessment plan and confirm a date for the next visit
The purpose of the next visit is to check whether your organisation is in full compliance with ISO 9001 and PAS 43 requirements. During this visit, the assessor will:
Perform sample audits of the relevant processes and activities

Document compliance, non-compliance and potential non-compliance

Create a plan for the first surveillance visit
3. Certification
If your company passes the inspection for PAS 43, it will achieve certification. If the audits identify any non-compliance issues, we will not be able to grant certification until your we verify that your organisation has taken corrective action.
For combined ISO 9001 and PAS 43 certification, if you pass the two audits, you will achieve certification. If we identify non-compliance issues in the full assessment, we cannot grant certification at that time. If you correct the problems and we verify their correction within six months, you can become certified. If more than six months pass, your company must undergo another stage two assessment.
4. Maintenance
To maintain your PAS 43 certification once you obtain it, you must pass annual inspection audits. Maintaining ISO 9001 certification requires yearly surveillance visits and a re-certification audit to be completed every three years. The surveillance visits serve to ensure that compliance is maintained during the period before the re-certification audit.
Contact NQA Today
We also offer several other services related to the PAS 43 standard. We provide training on how to implement, audit and manage a quality management system and can also conduct a gap analysis. You can use this analysis to plan your approach to earning PAS 43 certification.
We do not provide consultancy services, but we do maintain a register of consultants who have helped our clients in the past and received a high rating from them. You can use our Associate Consultant Register to search for and find a consultant who meets your specifications.
If you have any questions about our processes in general, you can contact us here.

Reviewed by: Judith Hargreaves, NQA Regional Assessor 12/18/2020