Briefing on Environmental Impact Assessment (EIA)
01 August 2016
The Environmental Impact Assessment Directive 2014/52/EU is responsible for some really exciting changes to development planning in the United Kingdom.
Some amended legislation came into force last year with more legislation planned before May 2017. Here is a run-down of everything you need to know:
Recent Changes
The Town and Country Planning (Environmental Impact Assessment) (Amendment) Regulations 2015 made several changes to the threshold of Schedule 2 development, which establishes the legal requirements for environmental screening:
For industrial estate development, the area of development exceeds 5 hectares,
For urban developments, the area of development includes more than one hectare of urban development which is not dwellinghouse development, or
The development includes more than 150 dwellings, or
The overall area of development exceeds 5 hectares,
For intermodal transhipment facilities and of intermodal terminals (unless included in Schedule 1), the area of development exceeds 0.5 hectares.
If any development meets or exceeds the requirements listed above then a full environmental impact assessment is likely to be required, and professionals would be required to contact the Lead Local Planning Authority for confirmation and the details of any further work required.
Future changes
The Environmental Impact Assessment Directive 2014/52/EU has yet to be fully implemented in the UK. The following changes are expected to become law before May 2017:
1. Definition: EIA will be considered as a process. This would include:
a. preparing an EIA report,
b. consulting on it,
c. evaluating responses,
d. issuing a decision, and
e. implementing environmental mitigation.
2. Co-ordination: Decision makers may issue instructions that allow assessments to be combined or coordinated, presumably regionally.
3. Detail: Additional information will be required on the impacts from waste or the use of natural resources, impacts of the project on climate change and its resilience to climate change, and the impacts on cultural heritage.
4. Screening decisions: The Lead Local Planning Authority will be expected to provide justification for each decision. The requirement for environmental mitigation should be evaluated for all projects, whether or not an assessment is required.
5. Competency: Individual professionals and the relevant authorities must be "competent experts" with "sufficient expertise". Accordingly, environmental reporting will also need to meet new standards of inclusivity and quality.
6. Assessment criteria: Biodiversity, climate change, disaster risk (e.g. flooding), and the use of natural resources will need to be assessed in order to determine any significant effects on the environment.
7. Time frames: Screening decisions will need to be given within 90 days, and the consultation period for an Environmental Statement must not be less than 30 days.
8. Monitoring: Environmental mitigation (and amelioration) will need to be monitored and fully implemented in order to remain legally compliant.
9. Penalties: Effective, proportionate and dissuasive penalties for legal infringement will be introduced, notwithstanding the possibility of criminal penalties for environmental legal non-compliance.
Analysis
Recent changes to the screening threshold will reduce the total number of full environmental impact assessments that are required nationally; the planning stage of certain larger projects that do not require a full assessment should therefore speed-up. In addition, future changes are likely to improve the environmental legacy of certain developments, especially through enforcing post-construction requirements for environmental monitoring, enabling effective environmental mitigation.
The overall trend is for tighter industry regulation. Consultants and planning officers alike will become directly accountable for the entire assessment process, as opposed to the wording in just a few documents. Developers will also find it harder to walk away from projects that still require environmental monitoring and mitigation. But is this enough? What has experience taught us?
Historic perspective
Environmental mitigation is rarely successful. One of the most controversial and widely published developments was the A34 Newbury Bypass, which was built in 1996. Part of the environmental mitigation for that project was the relocation of an internationally-significant population of invertebrates, to a neighbouring marsh.

Over the following years, pipes feeding water to the invertebrates were allowed to silt-up and the marsh dried out. It took another 10 years for anyone to realise that this was happening. The population of invertebrates that it had cost millions of pounds to save - were officially extinct. The site had Protestors being removed (Newbury) employed state-of-the-art mammal fencing, but this has subsequently been allowed to decay.

Even if you drive down the road today, some 20 years on, you encounter numerous mammal fatalities. It seems that the legacy of environmental mitigation at Newbury met with premature failure. The new Directive could have established the life-cycle targets of environmental mitigation measures, but it does not.
Risky mitigation
Another major problem with effective environmental mitigation is that both the developer and the environmental consultants tend to support any approach that allows the project to gain statutory consent - whether or not there is very much scientific evidence that it could work.
To give you an example: A few years ago, a myth grew up that bats would follow wires that were strung over highways. The theory was that they could echo-locate from the wires and this would allow them to migrate between areas of hedgerow that had been removed.
Millions of pounds were spent on the speculation that this technology would work, but in 2012 a study from the University of Leeds completely disproved the idea. Many bats simply flew into vehicles and could not find the wires. The average cost of a 'bat bridge' (as they became known) was about £100,000 and many were reputed to cost as much as £500,000. Whether these strange structures will be maintained for years to come is questionable, but it gives you an idea of how well environmental mitigation is typically scrutinised.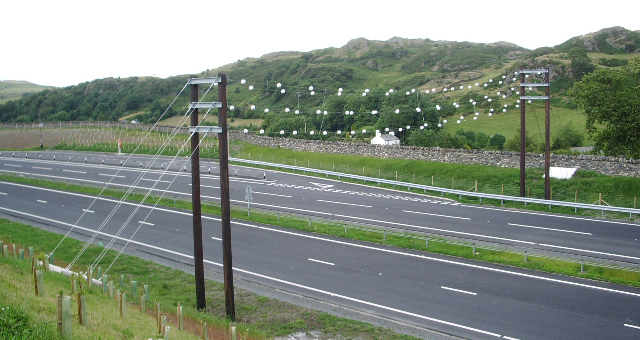 Bat bridge at High Newton, Cumbria.
Summary
The new Regulations should allow fewer projects to require full environmental impact assessment. Future changes are possible, which would have a direct impact upon the work of environmental practitioners (consultants), statutory consultees and planners alike.

The significance of these future changes is speculative, but it will create a more regulated business environment, including several methodological changes to the assessment process that could lead to improvements in decision-making.

Whether these changes will have a positive impact on the quality of environmental mitigation and the legacy of development projects is not transparent. Notwithstanding, additional regulations on monitoring and implementation could help to drive these improvements.

Author: Simon Cole, NQA Environmental Certification Manager