Step-By-Step Guide to AS9100 Implementation
24 March 2021
This guide to implementing AS9100 covers the standard's requirements, its benefits and how to implement it.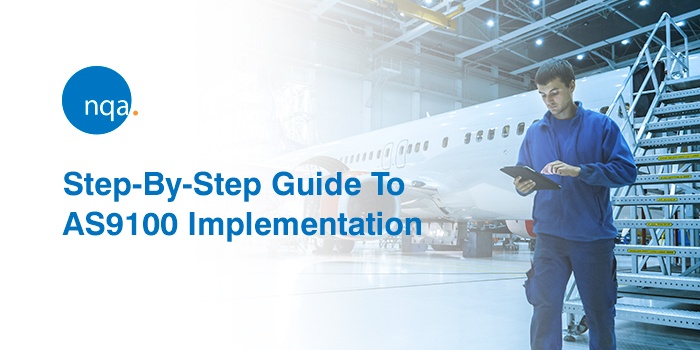 Quality management is essential across all industries, but its importance is especially evident in the aviation, space and defense (ASD), or aerospace, industry. Products need to perform consistently to ensure safety, fraudulent components are a significant concern, and strict regulations are in place. AS9100, a quality management standard with requirements that are specific to the aerospace industry, can help you provide consistent quality and reduce risks.
This guide to implementing AS9100 covers the standard's requirements, its benefits and how to implement it.
What Is AS9100?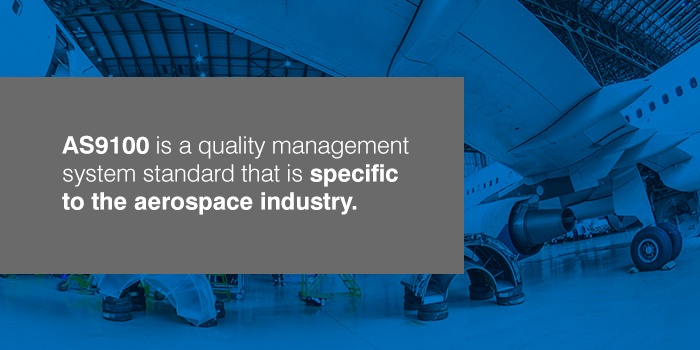 AS9100 is a quality management system standard that is specific to the aerospace industry. It provides requirements for creating, using and maintaining a quality management system for companies that provide products to the ASD industry at all levels of the supply chain. The standard defines best practices for the industry, provides guidelines for quality management and reduces organizationally unique requirements to help companies provide more consistent quality, cost and delivery of goods and services.
The American Society of Automotive Engineers and the European Association of Aerospace Industries first introduced AS9100 in 1999, and the International Aerospace Quality Group (IAQG), which consists of representatives from the ASD industry from the Americas, Asia/Pacific and Europe, later took over updating the standard. The latest version is AS9100 D or ENG 9100:2016. For companies that were certified to an older version of the standard, the deadline to transition to the latest version was September 15, 2018.
The standard works with ISO 9001, a standard that establishes quality management system standards and is not industry-specific. AS9100 builds upon the requirements of ISO 9001 and adds requirements that apply specifically to the aerospace industry, including requirements related to managing industry-specific risks, counterfeit parts prevention, timely delivery and product management.
The name AS9100 also refers to a series of quality management documents that different groups within the ASD industry use. These aerospace standards include:
AS9100 is the general standard for the entire aerospace industry. It is meant for organizations that provide or design products and services.
AS9110 is the Aerospace Management System for Maintenance, Repair and Overhaul (MRO) Stations. It's based on AS9100 and includes requirements that relate specifically to maintaining aircraft.
AS9120 is the Aerospace Management Systems for Stockist Distributors. It is also based on AS9100 and includes requirements specific to organizations that source or produce parts or materials for the aerospace industry. These organizations act as intermediaries between manufacturers and retailers and may warehouse, distribute or resell aerospace components. The additional requirements in AS9120 relate mostly to product traceability, the chain of custody and the control of records.
Benefits Of AS9100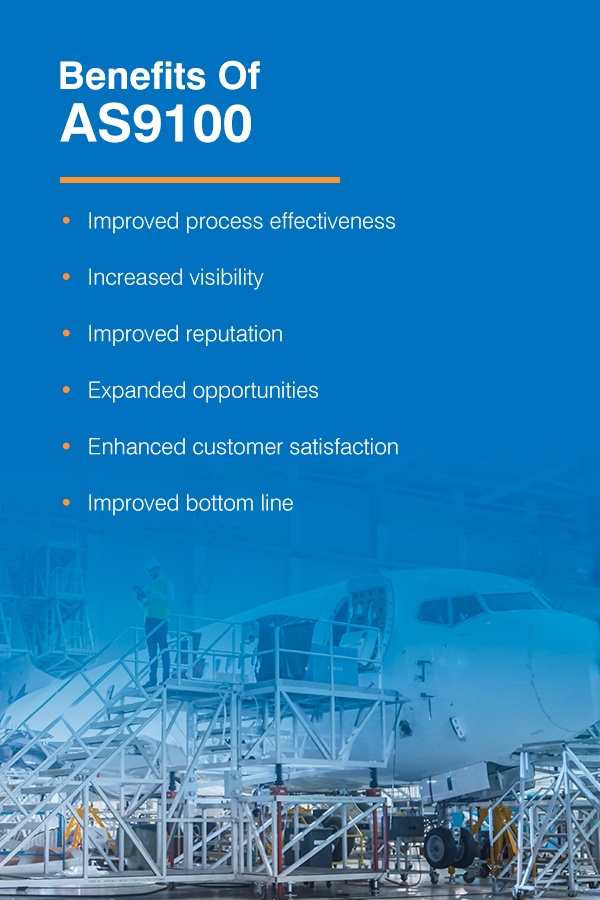 Following the requirements of AS9100 and achieving certification to it provides numerous benefits, including the following:
Improved process effectiveness: AS9100 is designed to help companies provide more consistent quality to their customers while making continuous improvements to their processes.
Increased visibility: AS9100 is an internationally recognized quality standard. The IAQG also enters all certified companies into its Online Aerospace Supplier Information System (OASIS) database, increasing their visibility across the industry.
Improved reputation: Certification to AS9100 and independent verification that you meet the requirements of the standard tell potential customers and partners all over the world that your company is reliable.
Expanded opportunities: In addition to the increased visibility and improved reputation AS9100 certification, many aerospace organizations will only work with companies that are certified. This means that certification opens new doors for growing your business.
Enhanced customer satisfaction: An AS9100-certified quality management system helps you to consistently provide high-quality products and services to your customers, leading to increased customer satisfaction.
Improved bottom line: AS9100 certification can help you to bring in more business and retain your current customers. It also helps you to make your processes more efficient and continually improve them, which reduces your operating costs.
Is AS9100 Right For Your Organization?
The AS9100 standard can provide a lot of benefits, but is it the right standard for your organization? It was developed with the ASD industries in mind, but companies in other industries that have additional requirements beyond ISO 9001 can benefit from using it as well. Some of the industries that most commonly use AS9100 include:
Companies that manufacture aviation, space and defense products
Companies that manufacture specialized aerospace components
Companies that supply materials to aerospace product and component manufacturers
Quality management organizations that work with aerospace manufacturers
Companies that design ASD products or components
Distribution centers for aerospace products
If your company falls into one of the above groups or works in another area in and around the aerospace industry, you may benefit from using AS9100. Depending on which part of the aerospace sector your company is a part of, you may want to work with another standard in the AS9100 series, such as AS9110 or AS9120.
Step 1: Learn About The Requirements
Once you've decided to pursue AS9100 certification, the first step in the process is to learn about the standard and its requirements. Start by obtaining a copy of the standard and any supporting documents you may need, such as AS9101, which defines requirements for preparing for and executing the audit process. You may also want to obtain a copy of ISO 9001.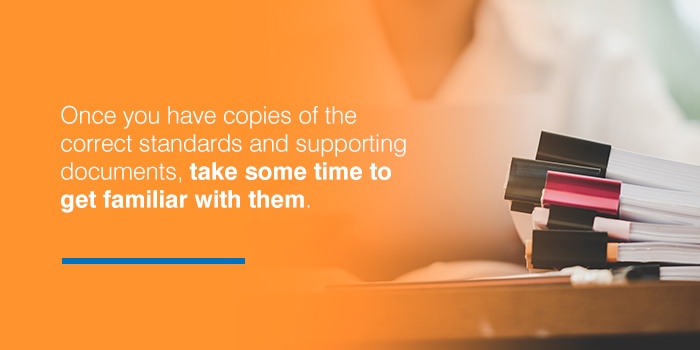 Once you have copies of the correct standards and supporting documents, take some time to get familiar with them, as this will help the transition process go more smoothly. The standards documents themselves will help you get comfortable with the requirements of AS9100 and where your company stands in relation to meeting them. AS9101 will help you get familiar with the audit and certification process. You may also want to start looking into the procedures that various companies use for auditing.
Step 2: Perform A Gap Analysis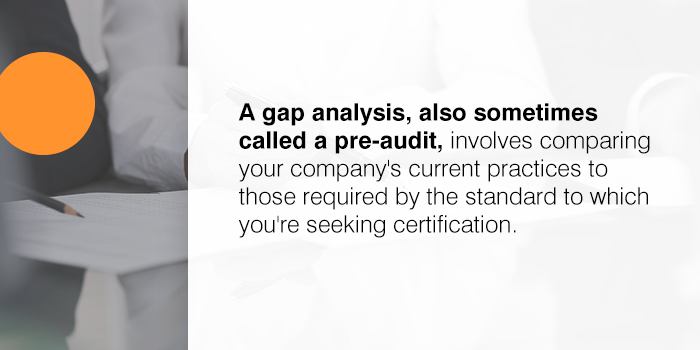 An important early step in the process is performing a gap analysis. A gap analysis, also sometimes called a pre-audit, involves comparing your company's current practices to those required by the standard to which you're seeking certification. This evaluation reveals the gaps between where your company is and where it needs to be to achieve certification and informs your implementation plan. If you identify more or wider gaps, your implementation process may be more extensive. If the gaps are relatively few and minimal, the implementation process may be less involved.
The person performing a gap analysis will typically do the following:
Compare your current quality management system to the requirements of the standard
Document where your system complies and does not comply with the standard's requirements
Discuss with management what to include in the project plan based on the results of the gap analysis
At the conclusion of the gap analysis, the assessor will produce a report that typically includes:
Where your company is already conforming with the requirements of the standard
Where your company is not complying with the requirements of the standard
Recommendations that may form the foundation of the implementation plan
Using the information revealed by your gap analysis, you can start to create a project plan that addresses the gaps you discovered.
Step 3: Create An Implementation Plan
The next step is to start creating your plan for implementing AS9100 in your organization using the results of your gap analysis. This plan will describe how to implement AS9100 and should include specific, quantifiable goals, along with realistic deadlines.
When creating your plan, you will design and document your quality manual and procedures. A significant portion of completing this is looking at your current processes and redesigning them as needed so that they meet the requirements of AS9100. You will need to establish methods for controlling these processes, including documentation.
Look at the items emphasized in AS9100 and ensure that you include them in your plan. Some of the items that AS9100 focuses on include having a structured and thorough plan, defining the data needed for relevant processes, designing review authorization and controlling test processes.
Your implementation plan should include details about each task that needs to be accomplished to ensure full compliance with AS9100. For each task, you should list the relevant section of AS9100, the required documentation, the person or the team responsible, the necessary approvals, the training required, the resources needed and the estimated completion date.
Your plan should also cover the costs of certification and implementation, as well as the benefits. This information will help you to plan for the costs, justify expenses and earn buy-in from management and employees.
Step 4: Design Documentation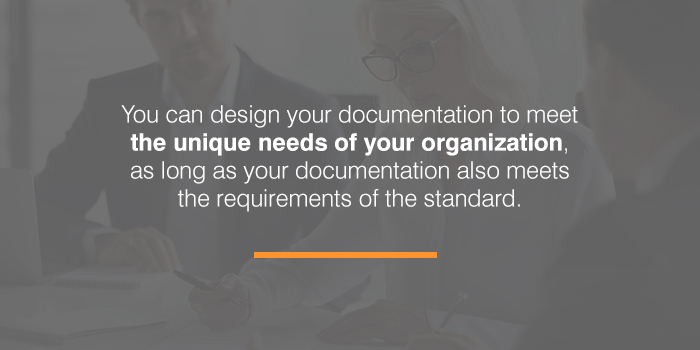 Controlling processes through documentation is a key part of AS9100 implementation. Once you have developed or modified your processes to comply with the standard, you will need to document them as quality system procedures. Your documentation will help guide your processes and enable you to verify compliance. You can design your documentation to meet the unique needs of your organization, as long as your documentation also meets the requirements of the standard.
It can be helpful to start with the minimum requirements for documentation. Include your documentation in your implementation plan and develop additional documentation as needed.
Step 5: Train Your Employees
For a smooth implementation process, you need to ensure that all employees are informed about the decision to implement AS9100, how it will affect them and what the implementation process will look like. It's also important that employees receive information about the benefits of AS9100 certification, as this can help encourage buy-in.
All employees who will be involved with the implementation and enabling compliance with the standard should receive the training they need to fulfill their duties. Be sure that employees have adequate time to complete training before beginning the implementation process.
Step 6: Implement Your Plan
The next step is to carry out the plan you created. The AS9100 implementation process will, of course, vary from company to company based on the gaps identified during the gap analysis and the tasks outlined in the implementation plan. Run your quality management system according to your plan for several months, making sure to monitor the process carefully. If issues arise during implementation or you identify potential improvements, make adjustments as necessary. Thoroughly document all changes made and ensure that all relevant employees are informed of them.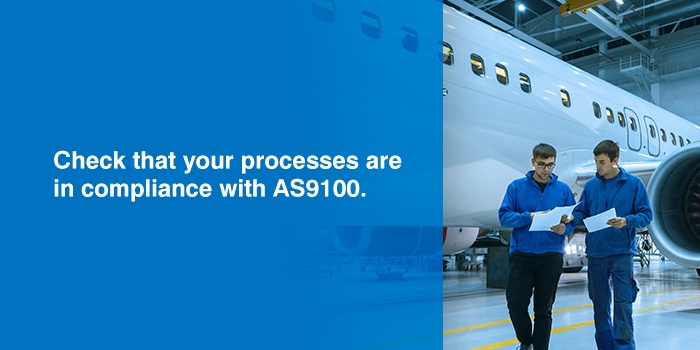 To identify potential improvements and to help prepare for certification, conduct initial audits. Develop an initial AS9100 audit checklist and use it to evaluate the areas in which your system is working well and the areas in which it requires improvement. Check that your processes are in compliance with AS9100. Document the results of your initial audits and use them to make adjustments as needed.
Step 7: Choose A Certification Body
Once you have run your quality management system for some time and have conducted initial audits, you can start looking into third-party certification bodies (CB). Explore the accreditations and experience of each certification body and evaluate what they offer. Look for one that is properly accredited, has experience with AS9100 certification and aims to help you improve your organization through their audits. Choosing a certification body with these qualities will help increase the value you get from the audit and certification process.
Step 8: Audit And Certify
At this point, you're ready to begin the third-party auditing and certification process. This part of the process verifies that you meet the requirements of the standard. If you pass the required audits, you will receive certification to AS9100.
After you select the CB you want to work with, you will need to fill out an application form with them. When you fill out this application, you will give the CB information about your company, the standard you're seeking certification to and any other requirements you have. If you're working with NQA, you can use either our quick quote form or formal quote request form. We use the information you give us to define the scope of the assessment you need and provide a proposal for certification.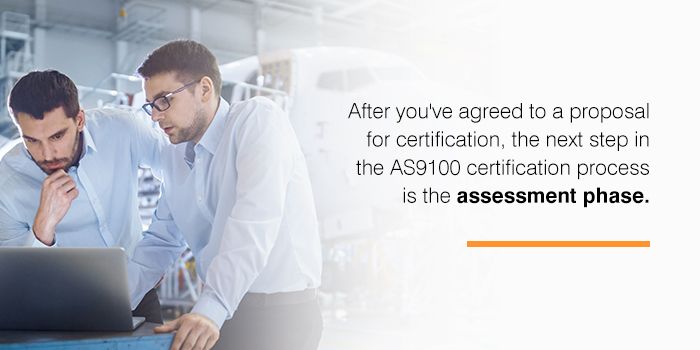 After you've agreed to a proposal for certification, the next step in the AS9100 certification process is the assessment phase. The initial certification audit consists of two mandatory visits from a CB. Before beginning the initial certification audit process, you must have completed a management review of the system and a full cycle of initial audits.
The purpose of the stage one assessment of the initial certification audit is to verify that your company is prepared for a full assessment. The stage one assessment consists of a documentation review that takes place at your management system center, which is typically your head office.
During the stage one assessment, your CB will:
Verify that the information your organization submitted during the application process is accurate
Confirm that you have been running your management system for a minimum of three months
Verify the scope of your certification
Ensure legislative compliance
Once the stage one assessment is completed, you will receive a report that outlines any non-compliance or opportunities for improvement identified during the assessment. If required, you will also need to agree upon a corrective action plan. If your organization passes the assessment, you will schedule your stage two assessment visit and complete an assessment plan for the stage two assessment.
During the stage two audit, the CB will check whether your quality management system fully meets the requirements of AS9100. This audit will cover all locations that are within the scope of your certification and will also include any site work your company is undertaking.
During the second assessment visit, the CB will:
Use objective evidence to document whether your system complies with the standard
Perform sample audits of the activities and processes that fall within the scope of the certification
Check that the management system meets the requirements of AS9100
Visit any remote locations, remote sites or other additional sites to evaluate how the management system functions off-site
Document and report any non-compliance or opportunities for improvement
If the assessor discovers any significant non-conformances, the certification body will not be able to issue the certification until your organization takes corrective action and a CB can verify the corrective action.
If your organization passes the stage two audit, the certification body will decide whether to certify you and, if the decision is positive, will issue a certification to AS9100. You will receive both a hard and soft copy of your certification. This certification is valid for three years, and you must maintain it by completing annual surveillance audits and a recertification audit every three years. We'll further discuss how to maintain your certification in the next section.
Step 9: Maintain Your Certification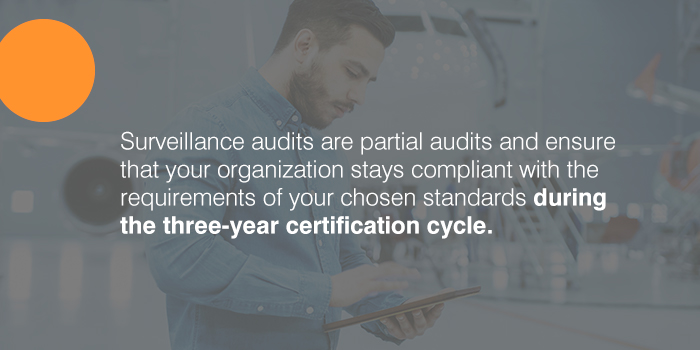 To maintain your certification, you must complete a surveillance audit every year and a recertification audit every three years. Surveillance audits are partial audits and ensure that your organization stays compliant with the requirements of your chosen standards during the three-year certification cycle. During surveillance audits, you must show that you have been making continual improvements to your system. The duration of your surveillance audits will depend on the size and structure of your organization, the risk and complexity involved in your activities, the number of standards included in your certification and the number of sites that fall under the scope of the certification.
Businesses evolve over time. Your organization may add or remove locations and activities, increase or decrease the number of employees it has or make other changes. If you make any such changes during your three-year certification period, alert your certification body as soon as possible. You can then adjust your management system, the scope of your certification or other elements of your program.
Why NQA?
At NQA, we have extensive experience with aerospace certifications, including AS9100D/EN9100:2016, AS9110C/EN9110:2016, AS9120B/EN9100:2016 and AS6081. We have worked with clients in the commercial and military sectors, including the Boeing Company, Lockheed Martin, Raytheon, the National Aeronautics and Space Administration (NASA), and the European Space Agency.
Our auditors have experience and knowledge in systems engineering, production, servicing, software, hardware, design, customer support and project management. They have worked at organizations such as Raytheon, the Boeing Company, Honeywell, General Dynamics, United Technologies and the U.S. Army, Air Force and Navy. Our technical experts are also involved in the Americas Aerospace Quality Group (AAQG), which develops the AS9100 series of standards.
In addition to AS9100 certification, we also provide certification services for various other standards, including ISO 9001, ISO 50001, ISO 14001 and many others, to organizations across many different industries. The standards for which we offer certification services cover various crucial business areas, including quality management, energy and environment, information security and health and safety. We also provide quality management training services.
At NQA, we offer competitive costs and exceptional value for your money. We strive to help you stay up to date with the latest standards and improve your organization's processes. We have various accreditations and can provide you with the support you need to boost your company's reputability and performance.
To learn more, contact us or request a quote today. We'll be happy to answer any questions you may have and help you find the right solutions for your needs.