World Quality Day 2020
04 November 2020
This special day was created by the Chartered Quality Institute (CQI) to bring more awareness and recognition to the quality industry and all the professionals who work toward improving customer value through quality management.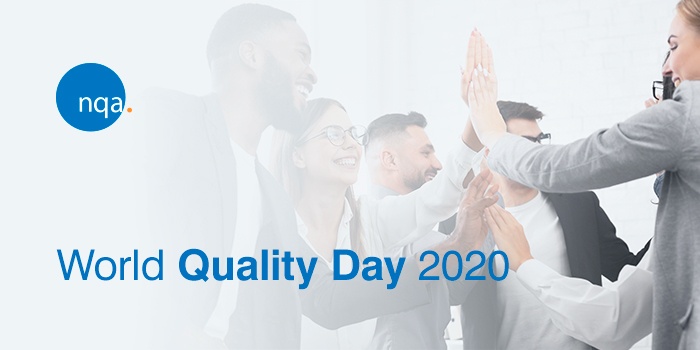 World Quality Day is celebrated every November and is coming up again soon! This special day was created by the Chartered Quality Institute (CQI) to bring more awareness and recognition to the quality industry and all the professionals who work toward improving customer value through quality management. This campaign aims to advance the quality industry in the consumers' eyes and benefit companies, organizations and customers.
Let's look at what this day is all about and how you can honor it in your organization.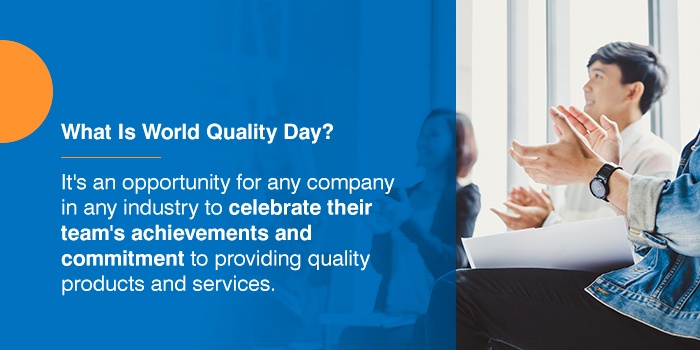 What Is World Quality Day?
World Quality Day (WQD) is a day set aside to recognize the efforts and achievements of quality professionals all over the world. It's an opportunity for any company in any industry to celebrate their team's achievements and commitment to providing quality products and services. It is also a chance to raise awareness of the company's quality levels and recognize the professionals responsible for solving quality issues.
Quality Professionals In The Workforce
The exact standards and details of quality can differ between companies and industries, but it should be an important consideration for all organizations. Quality is easy to conceptualize for businesses that provide products or services. We can think, is the offering good enough? How good is it? Can we make it better?
But even for any organization that may not provide tangible goods and services, quality matters with actions, tasks, decisions, processes and more. In any company or organization, everyone at every level of the business should be responsible for quality in everything they do.
However, for many companies, they have a specialist who is in charge of quality issues across the whole business. This person has the knowledge and experience to see the broader picture of quality issues and implement improvement methods.
These specialists are quality professionals and may be called quality managers, quality assurance managers, quality directors or other similar job titles. They may be employed internally or from an external company that's committed to helping other organizations succeed. World Quality Day seeks to recognize these professionals.
When Is World Quality Day 2020?
The whole month of November is recognized as Quality Month, and World Quality Day is celebrated on the second Thursday of November. This year, World Quality Day falls on November 12.
World Quality Day 2020 Theme
Each year, the Chartered Quality Institute selects a theme for World Quality Day. The theme is broad enough to be applied across many different industries and in various organizations, but it is not strictly enforced. For Quality Day 2019, the theme was "100 Years of Quality," which celebrated CQI's centenary and the impact of successful quality management over the past 100 years. Other past themes include:
2018: Quality: A Question of Trust.
2017: Celebrating Everyday Leadership.
2016: Making Operational Governance Count.
For 2020, the new World Quality Day theme is "Creating Customer Value." What does it mean to create customer value? This year's theme is all about recognizing the individuals and organizations that encourage a culture of putting their customers first. Companies that prioritize their consumers are constantly striving to improve their processes, services and products. All of these constant improvements create value for clients and increase overall customer satisfaction.
In today's fast-paced world, customer expectations are constantly evolving. Along with these expectations, technological advances and competitors are also developing in new ways. To succeed, businesses must keep up with these changes to provide the best value for their customers.
Quality management professionals help an organization drive and improve customer value in four ways:
Recognize: Quality professionals help a business recognize that the customer defines what quality products and services are, not the company itself.

Understand: Following a recognition that customers define what quality means, the next step is to understand the customers' perspectives, seeing the company's offerings through the consumers' eyes.

Share: This step entails involving the customer in the quality process by sharing the progress — as well as improved products and services — with them.

Collaborate: Quality professionals collaborate with customers by learning about issues or problems consumers have and working with them toward resolution and improved product and service offerings.
How You Can Create and Improve Customer Value
Creating customer value is important for any business or organization. It includes ensuring that consumers know their needs are being met and the company truly understands them. Businesses that continuously provide quality to their clients are more likely to experience long-term success and keep up with their competition.
All companies should be customer-focused, creating value for their patrons in any way possible. Here are five ways for any organization to create and improve customer value:
Understand your customers: Talk to your customers and find out what drives them and what value means for them.

Know your value proposition: Understand your product's benefits, minus the costs. Know this value proposition in terms of how your customers perceive your offerings.

Recognize where you can create more value: Identify different customer groups and areas where you can create the most value. Remember the competition and the techniques they use.

Maximize your pricing: Find prices that your customers will find the most value in while still maintaining your profit margins. Provide goods and services at prices that offer a great value for consumers.

Focus on your most valuable customers: Put more of your advertising, sales force and investing toward the customer segments who find the greatest value in your offerings and will give you the best returns.
Honor World Quality Day in your company by hosting a lunch-and-learn or other informal training session. This meeting should recognize team members that have gone above and beyond to create customer value in your organization and highlight successes from quality management from the past year. Get creative and find the best ways to honor the quality professionals in your company and customer-focused initiatives that have brought success this year.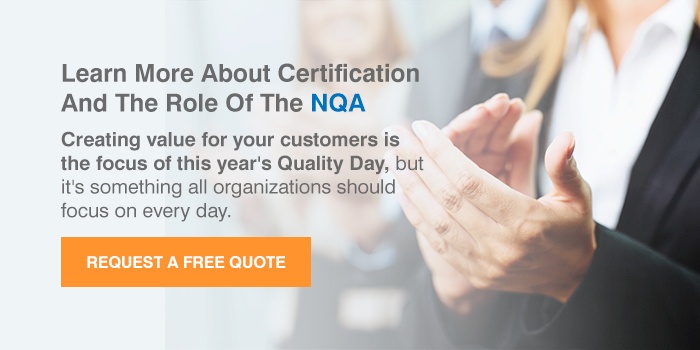 Learn More About Certification And The Role Of NQA
Creating value for your customers is the focus of this year's Quality Day, but it's something all organizations should focus on every day. Across the globe, quality professionals ensure customer value is a focus and ongoing concern for businesses of all sorts. Becoming certified in International Organization for Standardization (ISO) standards is one of the best ways to ensure quality control and customer value.
Find out more about ISO certification, including how NQA can help your business get certified through our pragmatic and supportive approach. If you have questions about certification or want to know what NQA can do for your organization, contact us today.