60 Seconds with David Imerlishvili
17 December 2018
David Imerlishvili started working for NQA as an IT Support Specialist in December 2015. It's his role to make sure that all NQA employees can work and that our digital functions like the website are constantly accessible.
What is your role?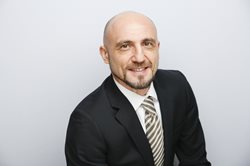 I am an IT Support Specialist based in Dunstable. My job is to manage all IT related services for NQA UK and India. My daily duties include monitoring and maintaining computer systems and networks, liaising with external service providers, deploying new systems and planning software rollouts.

My main responsibility is to assist my colleagues in resolving any technical issues they encounter. It can be challenging in our digital world but it's very rewarding when I am able to provide a solution and get a smile. Seeing their issues resolved and ensuring that they are working smoothly and stress-free makes me happy.
Most memorable moment at work?
I've been working for NQA for 3 years now and there have been quite a few memorable moments. It's common knowledge that technology always has the possibility of breaking down no matter how high the quality or reliability is. However this year has been the most memorable for me as we've implemented 4 major technology service upgrades in the UK and India which have all been completed successfully. I'm still nervous when I think about it :-0
Favourite things about working for NQA?
The best thing working for NQA is the environment that I work in. Of course it has its challenges but I enjoy tackling them. My role requires me to constantly interact with staff for a wide range of different technical issues and their patience and support makes my job so much easier. Working for NQA makes me feel that I'm working towards my goal, providing the necessary service for users, acquiring necessary knowledge for my professional development (that I can feed forward into the company/organization) and develop and grow my experience as I go along.
Top tip for people looking at certification?
In my opinion the ISO training courses are very valuable in the implementation of ISO standards for organizations as it teaches the important steps in preparation for certification. NQA runs a number of training courses on different levels that will certainly help towards certification. I, as an IT professional have found the ISO 27001 courses very useful as they taught me how to not only prepare my work to align with the standard but also to realize what quality and expertise looks like in an outcome.
How might you be able to help our readers?
Althought it's quite unlikely that I will be in contact with our clients directly I am always here to help. I'll make sure that our staff are well equipped to provide you with the best results and that they have system in place to communicate and help our readers. We are one team and all work towards a common goal to make sure we are providing valuable knowledge and expertise to help you achieve your objectives.