Get to grips with FSSC 22000 (V6) and food safety changes
20 December 2023
The latest version of FSSC 22000 (Food Safety System Certificate) is here. Expect various changes, new requirements added, and a helpful NQA webinar to guide you.
To register for this event for FREE click here
Date: Wednesday 20th December 2023
Time: 1pm GMT / 8am EST / 6:30pm IST
Duration: 45 mins + Q&A
The world of food safety is constantly changing, with standards evolving to keep organisations in line. FSSC 22000 is the latest update, now in its sixth version.

Join our webinar to catch up with FSSC 22000 (V6). Discover what these changes and additions mean for your organisation in 2024 and beyond.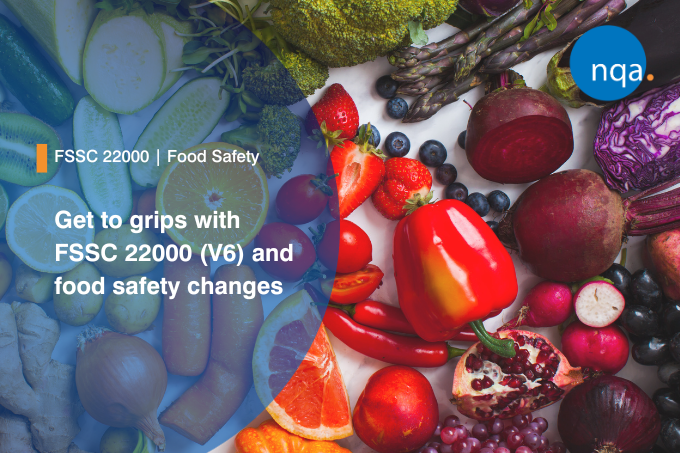 What will the webinar cover?
An overview of FSSC 22000 for clients and NQA

The several updated and 7 new FSSC requirements

Which food categories have been split and merged

Changes to the FSSC 22000 audit duration

Tips for maintaining a successful management system

PLUS: an interactive Q&A session

Who is the webinar for?
UK food organisations / non-UK food organisations

Existing / potential NQA clients considering FSSC 22000 / ISO 22000 / HACCP / GMP

Existing NQA clients looking to improve their FSSC 22000 / ISO 22000 / HACCP / GMP food safety management systems

Which NQA expert will deliver the webinar?
Maria Constable (Food Certification Manager)
Keep your food safety management system in line with the latest version of FSSC 22000. Rely on NQA to get you there.

If you're unable to attend… maybe next time! Register your place above, and you will receive a recording of the webinar, a copy of the slides and access to any materials used during the session.