Buildings & Infrastructure Industry Standards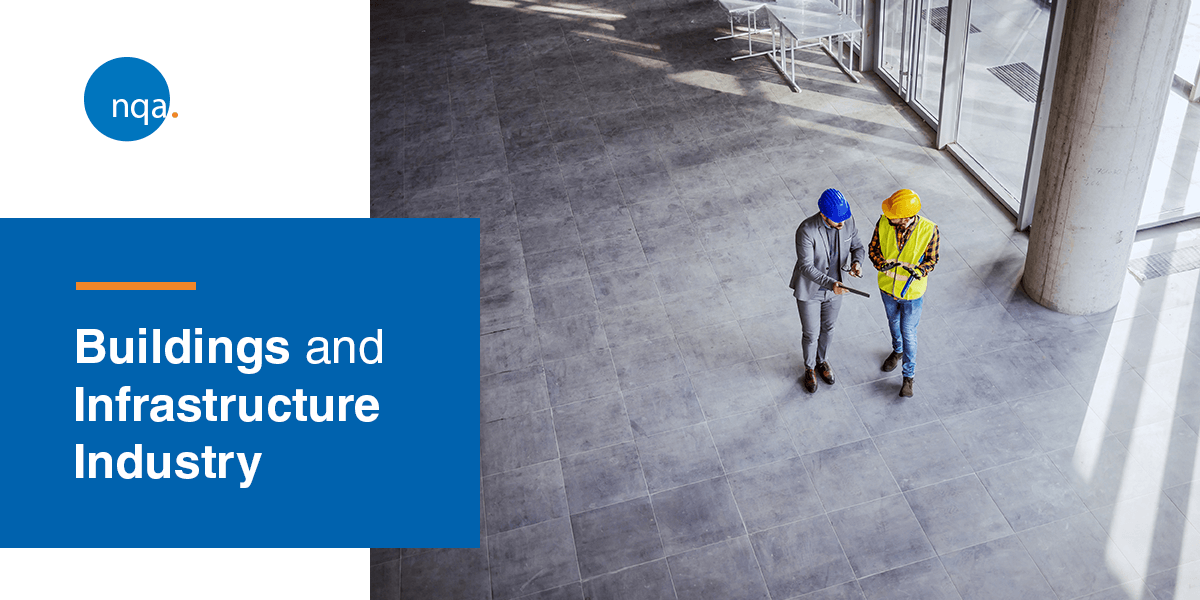 The buildings and infrastructure industry includes countless important businesses and specifications. With challenges like safety and efficiency, companies within this sector might be looking for areas to implement changes and improvements. Getting ISO-certified can offer a solution to these companies, helping to ensure better processes across several applications.
About the Buildings and Infrastructure Sector
The buildings and infrastructure sector is responsible for constructing and maintaining societal structures essential for business and daily life. There are many different types of companies within this sector, each with unique specifications, including construction, electricity, plumbing and road building.
This sector is responsible for building the necessary structural and transportation means we use every day, from our homes to the roads we drive on to our places of work. Because these businesses are responsible for so many public spaces and large-scale projects, they need to adhere to specific and thorough standards to ensure public safety and protect businesses.
Challenges the Buildings and Infrastructure Sector Faces
Like all industries, the buildings and infrastructure industry has unique challenges that businesses owners within this sector must recognize to improve their company. Some of these challenges include:
Managing safety: Construction sites often come with various risks to employees, from large, high-powered equipment that requires specialized training to structural dangers, like heights and tight spaces that can injure employees. Employers and companies have to be vigilant to protect their employees and other people who visit sites.
Implementing sustainability: While many organizations support and award sustainability efforts, construction companies may not apply these efforts to all projects, including commercial buildings. Further, some greener steps may require extra funding that companies may not have, making it challenging for construction businesses to use more sustainable habits on site.
Maintaining efficiency: Many construction teams work hard to develop a schedule or timeline for their projects. However, because many unpredictable elements can temporarily stop work, it can be challenging to establish efficient habits to create accurate timelines or make up for lost time.
Buildings and Infrastructure Sector Standards Supported by NQA
Businesses in the buildings and infrastructure industry need to understand the international standards they can follow to protect their company, employees and clients. ISO standards for the infrastructure industry include: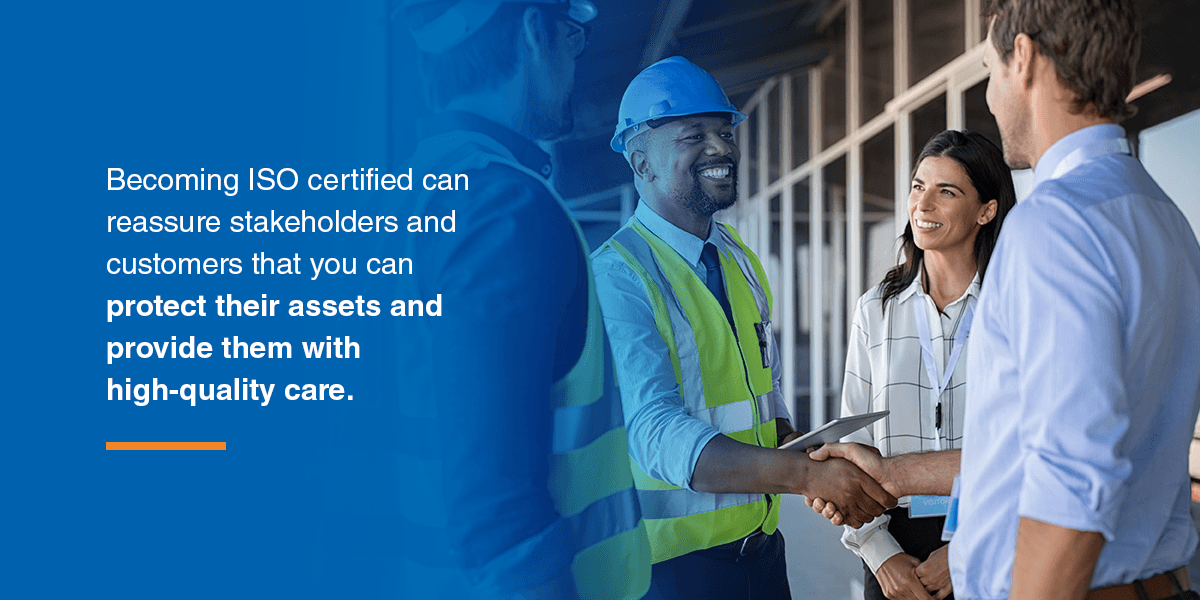 Benefits of ISO Certification for the Buildings and Infrastructure Sector
For businesses in the buildings and infrastructure sector, obtaining ISO certifications offers several benefits, including:
Building trust with shareholders and clients: Becoming ISO certified can reassure stakeholders and customers that you can protect their assets and provide them with high-quality care. Many buildings and infrastructure standards aim to help your company build, maintain and strengthen your reputation and responsibility. Let the people invested in your company know that your business will continue to meet public and international standards for increasing care.
Implementing stronger safety measures: Safety is key on construction sites where employees and visitors face many severe dangers, from injuries to death. Becoming certified in a standard like ISO 45001 can help businesses protect employees, clients and others in ways that fit their industry, so they can continue to provide excellent services while ensuring the health and safety of those carrying out the services.
Creating efficient strategies: Regardless of where your business wants to improve efficiency, several ISO standards can help you increase your company's process efficiency. ISO 9001 can help increase QMS efficiency, while ISO 50001 can ensure you are using your energy efficiently. Others, like ISO 14001, include supply chain and resource management strategies, so you can work towards your desired efficiency across many levels.
Maintaining international standards: ISO standards are internationally recognized, so your suppliers, vendors and other clients can rest easy knowing that you support high-quality processes and systems at your company, regardless of your location and relation to each other.
Why Work with NQA for Buildings and Infrastructure Sector Standards?
NQA is an accredited certification body that can help your business become certified to various infrastructure standards. We offer comprehensive services, so we can certify your company, regardless of your location. Some benefits of partnering with NQA to receive your ISO certification include:
Decreasing operating costs: Our certification programs and audits seek to provide improved practices across your company, allowing you to increase your process efficiency. When you have more efficient methods that meet international standards, you can better cut down on areas of overspending and save money.
Ensuring legal compliance: At NQA, we understand the legal risks accompanying the buildings and infrastructure sector and can help ensure you comply with legal standards.
Focusing on improvement: Our audits aim to highlight an area of progress every time, so you can always focus on improving your business and ensure you are providing high-quality services with NQA.
Investing in learning opportunities: NQA offers ways for your business to learn new skills that you can actively improve. Whether you want online, in the classroom or on-site courses, NQA offers it all.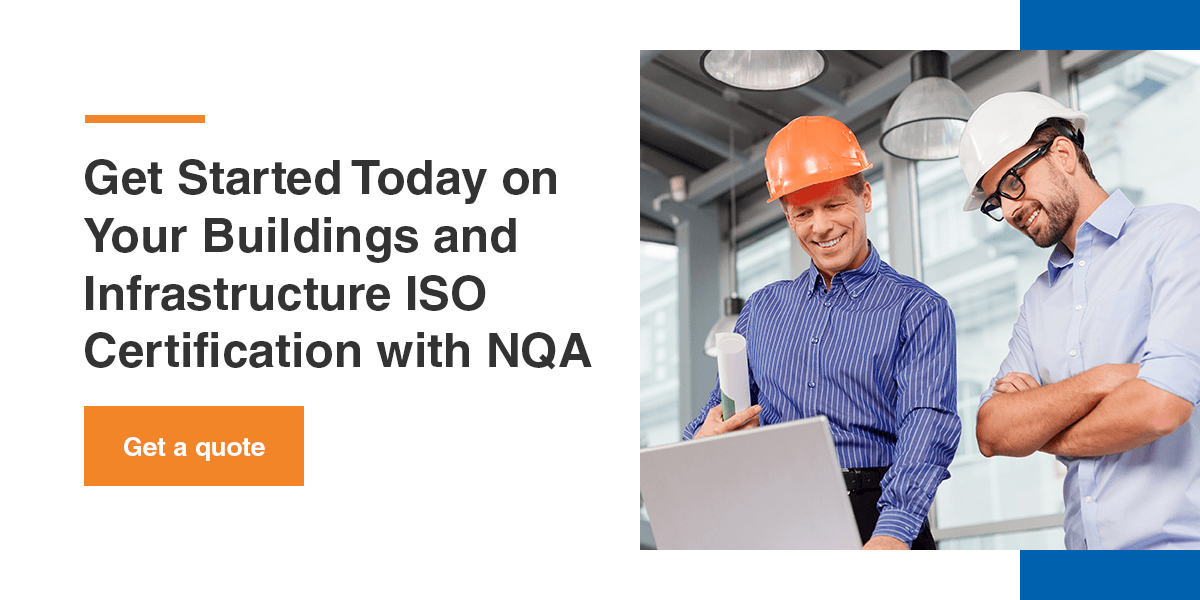 Get Started Today on Your Buildings and Infrastructure ISO Certification with NQA
ISO certifications can help set you apart from your competition and build trust between your company and your clients by showing your dedication to efficiency and improvements, as well as the environment, safety and management.
To get started in obtaining ISO certifications for your buildings and infrastructure business, request a quote today and discover how NQA's certification process can lead you towards improved construction solutions.