Medical Device Standards
Across industries, standards are an important way to safeguard product conformity while simultaneously harmonizing requirements both nationally and internationally. There is probably no other industry in which product conformity is as crucial as in the design and manufacture of medical devices. With significant expertise in the medical device manufacturing sector, NQA is ideally placed to assist clients in implementing ISO 13485 and other medical device manufacturing standards.
The Medical Device Industry
The medical device industry is responsible for the design and manufacturing of a wide range of products used to diagnose and treat illnesses and improve health in patients. Products range from imaging equipment to artificial joints and other implants. Top players in the medical device industry bring in billions of dollars in revenue every year.
Because medical devices are essential tools for healthcare, and because these devices have direct impacts on public health and quality of life, their safety is imperative. To create desirable outcomes for all parties and prevent device recalls, companies must follow relevant medical device manufacturing standards. These standards help ensure that a manufacturing or design process can consistently produce the quality required to serve patients and healthcare professionals.


Medical Device Standards Supported By NQA
Several management standards are applicable to medical device manufacturing. Read on for a brief overview of the most relevant, as well as information about the role NQA can play in getting your organization certified.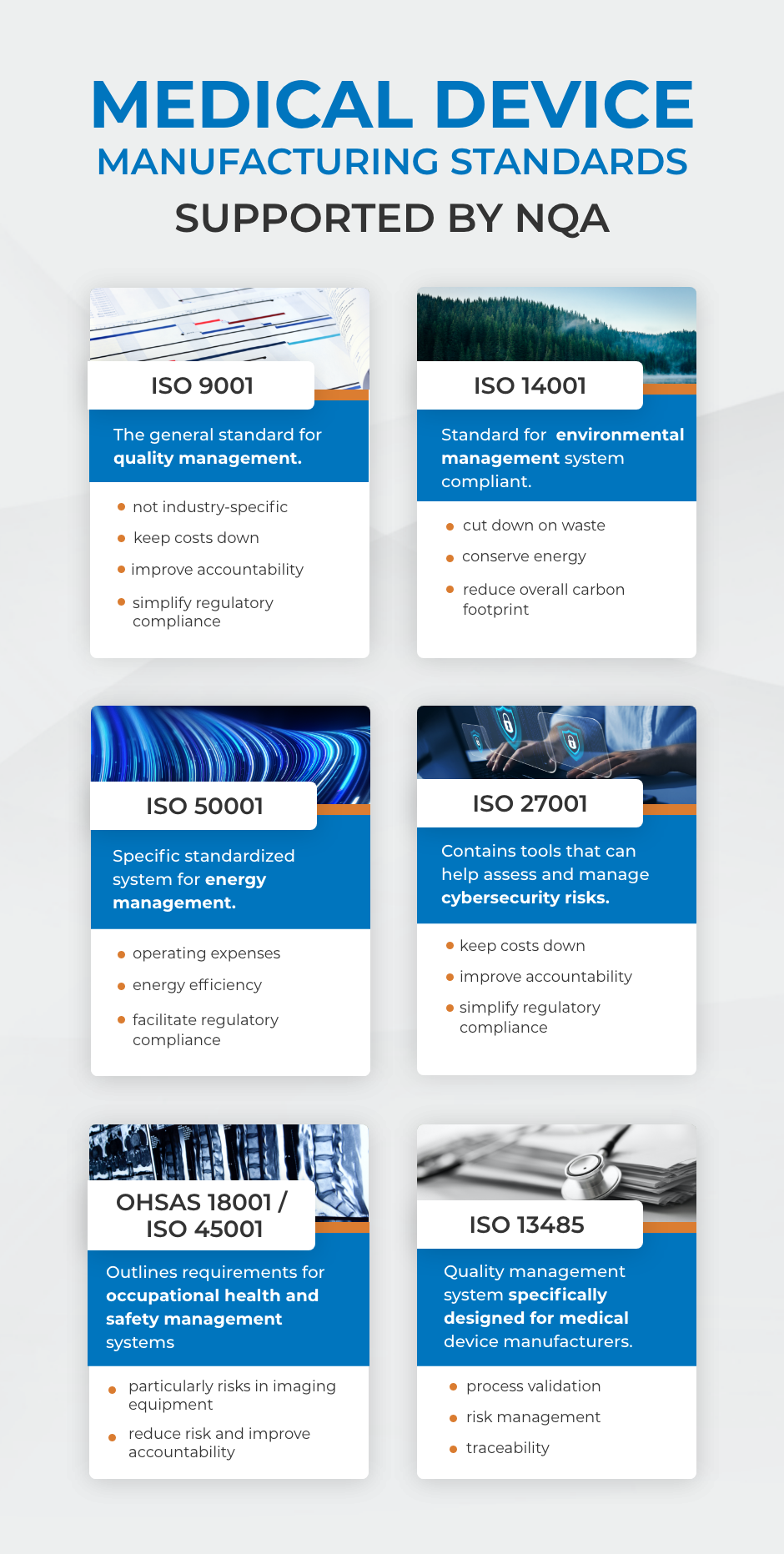 The most common medical device manufacturing standards include:
Our Experience
At NQA, we have extensive experience helping medical device manufacturers achieve certification. We have a worldwide network of experts who participate in standards writing and pay attention to developments in the industry, which makes us an ideal certification body to help you implement ISO 13485 and supporting standards.
So far, we've issued more than 43,000 certifications to clients of all sizes across more than 90 countries. Our clients in the medical sector include New England Biolabs, Pac-Dent International, GESUS New England, Tecomet and RR Donnelley Banta Global. We look forward to working with your organization as well.
Our Services
As an accredited certification body, NQA performs auditing for businesses in a variety of industries, including medical device manufacturing. In addition to offering ISO 9001, ISO 13485 and other medical device industry certifications, NQA also offers a wide range of services to help your organization achieve and maintain compliance. For example, we offer flexible training options to provide your team with the technical skills necessary for certification. Choose from online, classroom or in-house courses to best suit your needs.
No matter what medical device standards you need certification in, we will always work to provide you with practical advice and suggestions for improvement beyond basic compliance.


Why NQA?
At NQA, we believe our clients deserve to work with a certification body that offers value and excellent service. We are passionate about providing you with the information you need to improve your products and processes and achieve compliance with industry standards. Though our approach to certification is rigorous and upholds the integrity of accredited certification, we also work to offer pragmatic support to our clients. Some of the benefits of working with NQA include:
Competitive pricing: We constantly monitor the industry to make sure our pricing remains competitive and fair. There are no hidden fees associated with our services, so you will always receive great value when working with NQA.
Responsiveness: Though we're an accredited certification body with a global reach, we retain a local attitude. This attitude enables us to respond flexibly to changes in the medical device manufacturing industry and within individual organizations.
Improvement focus: In addition to assessing your company's compliance, we also strive to provide practical suggestions for improvement during every audit. There is always room for growth when it comes to quality control and risk management.
Get Started Today!
Certification is an essential step for any medical device manufacturer. To receive a quote, complete the NQA online Request for Quotation form or contact us for more information today. Get all of your questions answered, choose the package that works best for you and then you're ready to go!
Ready to start your journey?
We'll give you a clear indication of the costs of gaining and maintaining certification.
Not ready yet? Call us on 080-67740400 or
request a callback
to discuss your certification requirements.