Our Accreditation
What is accreditation?
Accreditation is an independent assessment that ensures certification bodies have the technical competence and integrity of impartiality to deliver credible certification services. This is essential to building confidence and trust in certification.

UKAS defines accreditation as: a means of assessing, in the public interest, the technical competence and integrity of the organisations offering evaluation services including testing, inspection, calibration and certification.​
Why accreditation?
We believe in the integrity of standards and rigor of the certification process. That's why it's our policy to achieve accreditation for our services wherever possible.
Our accreditations and certifications
As an accredited certification body, NQA holds many accreditations and certifications.

ISO 17021-1:2015 To view our certificate click here.
This is the international standard that contains the principles and requirements for certification bodies that certify management systems. It ensures competence, consistency and impartiality of the certification body.

Cyber Essentials Certification To view our certificate click here.
NQA holds Cyber Essentials certification which demonstrates our commitment to cyber security as well as ensuring we have the right processes in place to guard us against the most common cyber threats. Cyber Essentials is managed by the National Cyber Security Centre (NCSC) and is a required pre-requisite for any organisation undertaking work for the UK government.

For more information click here.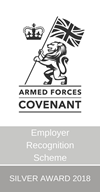 MOD Employer Recognition Scheme – Silver Award To view our certificate click here.
This prestigious award celebrates the work NQA does in support of the Armed Forces and those who serve or who have served our country and their families.

For more information click here.


CQI & IRCA Approved Training Partner To view our certificate click here.
NQA Certification Ltd holds the CQI and IRCA ATP (Approved Training Partner) status. This means that a number of our training courses within our portfolio have been and continue to be approved for use by CQI and IRCA. Our CQI and IRCA approved training courses ensures that NQA has the knowledge and capability to offer training courses that are aligned with the CQI and IRCA minimum requirements for accreditation. Our courses include lead auditor courses, conversion courses, internal auditor courses and risk management courses.

To view our range of training courses click here.
Who accredits us?
NQA is currently accredited for its services by the following Accreditation Bodies and industry regulators. These regulators regularly and rigorously assess us against international standards to ensure our competence, impartiality and performance capability.
UKAS – the United Kingdom Accreditation Service for which we have one of the widest scopes of accreditation covering most economic sectors.

​ANAB – the ANSI-ASQ National Accreditation Board is the largest multi-disciplinary accreditation body in North America.

IATF – the International Automotive Task Force for the provision of certification against IATF 16949 (Automotive Quality Management)

EIAC – Emirates International Accreditation Centre (EIAC) was established pursuant to Law number (27) for the year 2015, issued by the Vice President and Prime Minister of the UAE, Ruler of Dubai, to become the governmental accreditation body of the Emirate of Dubai.

FSSC – The FSSC 22000 Scheme is managed by the independent Foundation FSSC 22000. FSSC 22000 is recognized by the Global Food Safety Initiative (GFSI) and developed in response to the needs of the international food sector.

CNAS – China National Accreditation Service for Conformity Assessment (hereinafter referred to as CNAS) is the national accreditation body of China unitarily responsible for the accreditation of certification bodies, laboratories and inspection bodies, which is established under the approval of the Certification and Accreditation Administration of the People's Republic of China (CNCA) and authorized by CNCA in accordance with the Regulations of the People's Republic of China on Certification and Accreditation.

IECQ (International Electrotechnical Commission Quality Assessment System for Electronic Components) – The IECQ is a worldwide approval and certification system covering the supply of electronic components and associated materials and assemblies (including modules) and processes. It uses quality assessment specifications that are based on International Standards prepared by the International Electrotechnical Commission (IEC).
* This approval relates to the delivery of RT-05 certification in the Italian construction sector.
Our accreditation certificates
Impartiality statement
Impartiality is a fundamental principle of accredited conformity assessment. This means that decisions are based solely on objective evidence of conformity and are not influenced by any other interests.
NQA manage conflict of interest through corporate policies, documented procedures, risk assessments, and agreements. These are independently reviewed as part of our external oversight regime.

We take potential conflicts of interest very seriously and ensure that impartiality is not compromised at any time. In particular, we ensure that, irrespective of which consultancy may have been employed to implement or maintain a client's management system or support an entity with verification claims:
Certification / inspection / verification will not be simpler, easier, faster, or less expensive
Certification / inspection / verification will be based solely on the objective evidence
Unaccredited certification
NQA's policy is to provide accredited certification wherever possible. Some schemes do not have an accreditation and in those cases we still apply the same rigor, processes, competence requirements and impartiality as if it were accredited.

Unaccredited certification can be an attractive way of achieving certification quickly and cheaply. However, it can have serious shortcomings including:
failure to meet customer requirements, particularly contractual obligations
lack of integrity which can damage reputation
wasted time, budget and resources
Ready to start your journey?
We'll give you a clear indication of the costs of gaining and maintaining certification.
Not ready yet? Call us on 0800 052 2424 or request a call back to discuss your certification requirements.