60 Seconds with Andre Allgauer
27 November 2018
Andre is a recent addition to the NQA family. With a passion for anything aerospace related and goals to build personal relationships with all of his accounts and clients he has already settled in very well.
What is your role?
I joined NQA very recently as a Key Account Manager out of our Dunstable office. It is my responsibility to ensure that our Key Accounts are duly serviced across the UK and occasionally worldwide.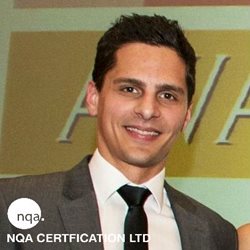 Since the very beginning, my goal was to develop a robust system to always deliver excellent customer service in a timely manner, not only by meeting but hopefully exceeding our client's expectations. Following that, I have then been able to introduce a more personal and friendly approach in order to truly build rapport and slowly become their 'go-to' person for anything certification related. It is a rather challenging and dynamic role that gives me loads of opportunities to learn and improve every day.
Most memorable moment at work?
Although I am still quite new to the business, I believe I have already had a few memorable moments worth mentioning such as attending the 2018 Farnborough Airshow where we had our very own NQA booth alongside the biggest names in the Aviation & Defence industries. This gave me the opportunity to walk around and see some of our existing clients to continue to build a relationship and get a better idea of what visitors are looking for when they attend the show.

I also enjoyed attending a meeting with NQA's Commercial Director, Laura Fletcher, alongside Managing Director, Nick Wright, with a large supermarket brand to discuss their certification journey to ISO 50001 (Energy). It was an incredible experience due to the duo's impressive amount of knowledge which clearly made the client feel very comfortable and confident that they had made the right decision by working with NQA.

Last but not least, I would consider myself as one of the biggest petrolheads in NQA so it is an honour and a privilege to work closely with some of the world's most prestigious automotive brands whilst also allowing me to follow my passion.
Favourite things about working for NQA?
There are actually three things that really stand out for me here at NQA: the people, flexibility & training. Our people truly make for a great atmosphere and their support never fails to put you at ease. Great teamwork is always an email or phone call away.

My role is quite flexible because I am often going out to visit clients so I need to be able to work remotely and think on my feet which I really enjoy. It is great to have the ability to go out and properly build and maintain personal relationships with our clients and support them with their on-going certification process.

Another one of my favourite aspects is how much NQA values training and personal development, since joining I have taken part in loads of training courses and am constantly learning more and improving my skills.
Top tip for people looking at certification?
My suggestion would be: do your homework! Research as much as you can into the standard you're looking to certify against. For instance, our website boasts a vast amount of content including webinars, blogs and training courses to support you through the journey to certification. It might also be a good idea to consider doing a Gap Analysis before anything else so you can start the process with a clear understanding of your organization's management system and its potential areas of concern. This exercise could actually save you a lot of money and time if you know exactly what you need to fix before your auditor turns up.
How might you be able to help our readers?
If you are an existing client that needs any assistance at all, please don't hesitate to reach out to me directly because even if I personally don't have the answers you need, we have an entire team of experts ready to support me in my endeavour to answer any enquiries sent my way.