Honouring heroes and transforming careers on UK Armed Forces Day
23 June 2023
Armed Forces Day is celebrated on 24th June each year in the UK. Keep reading to discover its value at NQA as a signee of the Armed Forces Covenant.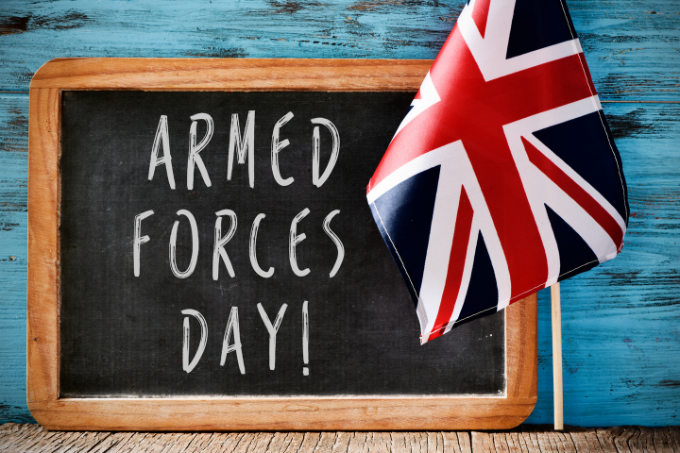 The UK Armed Forces Day, which takes place this year on Saturday 24th June, holds a special place in our hearts. It offers a day to express support for the brave men and women who compromise the armed forces community.

From active-duty troops to veterans, cadets to service families, Armed Forces Day presents an opportunity for us all to show our deep appreciation.

However, Armed Forces Day isn't just about expressing gratitude. It also holds significance in career opportunities and the unique skills veterans bring to the table.

In this blog, we delve into why Armed Forces Day is important to celebrate – and how NQA actively supports service personnel transition into the auditing profession.




What skills do armed forces personnel bring to NQA?
Members of the armed forces – from the Royal Marines to the Red Arrows – develop a host of skills throughout their careers.

NQA recognises how these skills seamlessly align with the requirements of certification bodies. The specific qualities, combined with extra support and training from NQA, can help veterans transfer into qualified assessor roles.





"The Army teaches you to approach each situation with an open mind and to be methodical in your approach and outputs – this is perfect as a base for auditors. However, it's the soft skills that are more noticeable. Being able to empathise with clients and also the ability to communicate effectively." – Craig Abbot, Regional Assessor

"The main ones would have to be discipline and time management [...] There's not a British soldier or veteran alive who won't arrive 5 minutes before their start time." – John Millichap, Business Development Manager

"For ex-service personnel, the skills required within the auditing world are very similar to those you would expect within the services […] Think of the Army's values and standards – courage, discipline, respect for others, integrity, loyalty and selfless commitment – and you won't go wrong!" – Martin Lonsdale, Regional Assessor

"The day-to-day skills such as a professional can-do attitude that focuses on delivering high-quality aerospace audits and engaging the customers at every opportunity." – Archie Gemmell, Aerospace and Defence Sector Manager




Why should service personnel consider a career at NQA?
NQA is a signee of the UK Armed Forces Covenant, promising to support and treat those serving (or have served) and their families fairly.

We are also incredibly proud to have achieved the Defence Employer Recognition Scheme silver award for:
Actively speaking to (and hiring many) veterans seeking the next step in their career

Allowing reserves time off for training and other commitments to the armed forces

Creating an inclusive and friendly environment for armed forces community members



"NQA's senior management team understand how the skills and experience gained by servicemen and servicewomen can add immediate benefit to NQA. They also understand our needs and expectations. My team is especially good; there are so many ex-service people in it, and so we can all relate to each other easily." – David Nutbrown, Regional Assessor

"NQA is a great place to work. My previous jobs did not provide any structure, and I could not plan my personal life around work. Now I know I won't often be away overnight, and when I am, I have weeks of notice with weekends to myself! I was scared to leave the Army because I knew I was secure in a job. I think this job is perfect for those leaving the forces." – Dylan Harvie, Regional Assessor




How does NQA support service personnel with their journey into auditing?
NQA is a MOD-approved Enhanced Learning Credits Administration Service (ELCAS) learning provider.

We have several courses under the ELCAS Training Scheme, which are also approved by CQI and IRCA.

Each course aims to help serving personnel become lead auditors for management systems in:
Quality

Health and safety

Environment

Information security and/or

Energy

Discover more about ELCAS funding and making a claim here and here.



3 ISO standards in one go: Craig Abbot (Regional Assessor)
NQA Regional Assessor Craig Abbot completed ISO 9001, ISO 14001 and ISO 45001 back-to-back.

He told us that it was intimidating at first, having never covered ISOs or auditing before – not to mention intense. However, he felt "supported all the way through, with constant reassurance".

After the training, Craig shadowed Terry Fisher on various audits.

It made him feel prepared for the role, and he continues to "thoroughly enjoy the confidence NQA has in me to be autonomous and to get the work done to a high standard and on time".





"Ex-service personnel skills, combined with a lead auditors' course and previous experience in carrying out security inspections in home-base locations and austere environments across the globe, would allow most ex-service personnel to transition seamlessly to NQA." – Martin Lonsdale, Regional Assessor

"Working to a framework and set of standards is very similar to working in the military. Good training and a strong ex-forces community make NQA feel comfortable for veterans." – Neil Gilpin, Regional Assessor




Final thoughts from NQA
Armed Forces Day serves as a reminder to honour, support and recognise the invaluable skills and contributions of the UK's service personnel.

NQA is committed to employing veterans, creating an inclusive environment, and offering them the chance to begin a new career.



Ready to kickstart your auditing journey? Get in touch today!