Elevate health and safety in the workplace with ISO 45001
19 June 2023
3-minute read
Join NQA Regional Assessor Claire Harling to discover how
ISO 45001
(Health & Safety Management) can transform your organisation.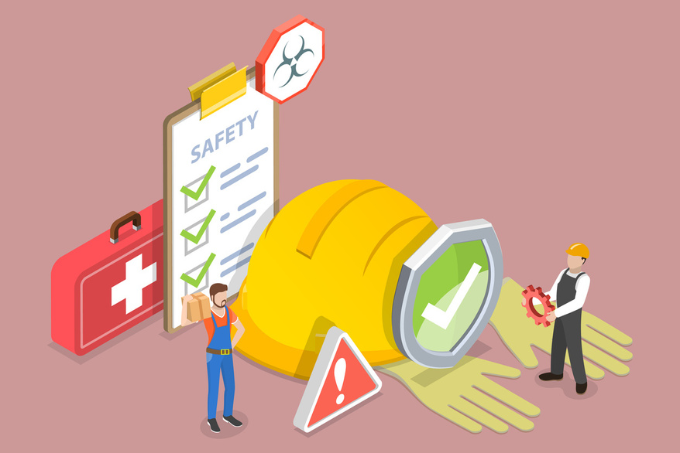 ISO 45001 (Occupational Health & Safety Management) is one of NQA's core standards.

The management system is designed to help protect employees and visitors from accidents and diseases – and the organisation from subsequent, irreparable harm.



Keep reading to discover what ISO 45001 is all about and the benefits it generates.




Why does workplace health and safety matter?
There has been a growing focus on workplace health and safety, spanning a range of industries and countries.

The reason for this is simple.

According to the International Labour Organization, globally every year:
There are 2.7 million workplace-related deaths

380,000 = fatal accidents
2.4 million = occupational diseases (such as cancer)

374 million non-fatal injuries take place

Leading to 4+ days absent from work
ISO 45001 was introduced to give organisations a single, rigorous and robust framework to mitigate those numbers and demonstrate that a business is working to the highest health and safety standards.




Did you know? In 2020, ISO 45001 saw a 97.3% increase in worldwide certificates!




The benefits of ISO 45001 for your organisation
Implementing an ISO 45001 management system proves your commitment to workplace health and safety.

Here are just some of the many advantages ISO 45001 can bring to your organisation:

Benefit #1: Stronger tender applications
Organisations with ISO 45001 are often able to complete tender applications quicker, with a global certification to their name.

Rather than completing a lengthy health and safety section that requires reams of documents and procedures, all that's needed is a copy of your ISO 45001 certificate.

Benefit #2: Reduced insurance premiums
ISO 45001 helps organisations anticipate and control risks that may otherwise lead to accidents and subsequent litigation cases.

The management system proves to insurance companies that you care about occupational health and safety, which can yield lower insurance rates*.

*Note: This is not guaranteed.

Benefit #3: Bolstered positioning on supplier lists
ISO 45001 in supplier-heavy industries (such as manufacturing and construction) can make a significant difference in your organisation's success.

Major companies often have a list of approved suppliers with various tiers. Implementing ISO 45001 can move you up the tiers and generate more leads.

Benefit #4: Guaranteed legal compliance
One of the many beneficial features of ISO 45001 is a compliance register. This register enables organisations to check and follow the correct legislation.

Weekly fire alarm testing, 5-year fixed wiring inspections, first aiders on-site, annual fire risk assessments… these all come under a compliance register.

Benefit #5: Enhanced lease contract negotiations
Having an awareness of building legislation can offer support during lease contract negotiations. This is especially valuable for companies that lease their buildings.

It means that when contract negotiations take place, organisations can establish and specify who is responsible for the various inspections.




Did you know? ISO 45001 can be integrated with ISO 9001 (Quality) and ISO 14001 (Environment).




Final thoughts from NQA
ISO 45001 is the ultimate standard for organisations ready to prove their commitment to workplace health and safety.

We offer the latest version (ISO 45001:2018) to new and existing clients, with NQA assessors eager to help your organisation reach its highest potential.



Decide whether ISO 45001 is for you by visiting the Standards page or getting in touch.