Sxoli Odigon Kimon Achieve ISO 9001 Certification
09 February 2023
Sxoli Odigon Kimon, is located in Limassol, Cyprus and has its roots dating back to 1983. The driving courses at Sxoli Odigon Kimon are designed to improve drivers' skills.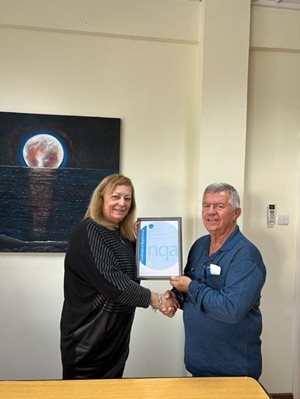 The company aims to provide students with quality courses, supported by vehicles suitable for practical instruction. Sxoli Odigon Kimon transmit to their student's road values, positive habits and attitudes of coexistence road safety, in order to meet the needs of society with road awareness.

Sxoli Odigon Kimon offers lessons according to each student's needs.

The driving School offers driving lessons for beginners and helps people to obtain a motorcycle driving license as well as Trailers, Lorries, Minibus and saloon cars license.

The Driving school has just achieved ISO 9001:2015 through hard work and perseverance.

Since obtaining the QMS certificate, they also won a tender for the MOD to train MOD personnel throughout Cyprus.

If you'd like to talk to us about gaining ISO 9001 certification please get in touch here.