60 Seconds With Laura Fletcher
12 August 2019
Laura is NQA's Commercial and Customer Experience Director. She has been with the company for a significant period of time and boasts a huge amount of knowledge of the certification industry. With a passion for providing our clients with the best possible service read on to see how she can support you.
What is your role?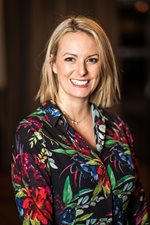 I joined NQA almost 11 years ago now so my roles here have been varied to say the least. I started at NQA as a fresh graduate, working as an outbound telesales advisor selling gas certification services to local authorities – I know right – every graduates dream!

Since then I have worked in operational and business development roles with my current position being Commercial and CX Director.

What my role actually enables me to do is ensure that our clients are at the heart of everything we do at NQA. I focus on ensuring our existing clients receive relevant information at the right time and are aware of the upcoming requirements for their management system, as well as ensuring that NQA is positioned correctly in the industry to attract new clients and new expertise.

My commercial focus ensures that NQA are aware of the competitive industry we operate in, making sure that our service reflects NQA and remains competitive. We focus on our customer service and technical expertise as our standard service, which is far supreme and sought after in the industry. We also don't charge high fees – we simply want to support our clients in their certification and training journey.

Being a leader for NQA's commercial team is fantastic. We have an exceptional team who are vibrant, competent, knowledgeable and most of all great fun to work with, and this expands across the whole of NQA. I guess that is why I've been here 11 years!
Most memorable moment at work?
This is a really difficult question to answer so I have picked two to share with you:

External Moment
I had the pleasure of being a judge for the CQI International Quality Awards last year on the Emerging Talent award. These awards were such an inspiring event to be a part of. They really celebrate the fantastic work that quality professionals achieve every day. The Emerging Talent award allowed me to get a glimpse into the future of our industry, the fresh blood that will propel our industry forward into the next era. It was delightful to see so much passion and enthusiasm in an industry that is often seen to be very dry, and it gives me a real hope and excitement for the possibilities that lie in tomorrow's world!




You can find out all about the International Quality Awards on the CQI's website and I am delighted to have been asked to join the judging panel again this year. Make sure you check the awards out here.

Internal Moment
NQA regularly celebrates the diversity of staff that work here. We do this by having cultural days, which give us the opportunity to learn about the heritage of our colleagues and sample some home made cuisine! What's not to love about that!

Being a Yorkshire lass born and bred, I couldn't help but take up the opportunity to celebrate Yorkshire Day with team mates in our office. I took the opportunity to explain the Yorkshire Rose, how Yorkshire would have come 12th in the 2012 Olympics had it been its own country as well as teaching some of our local dialect such as "Ah'll tell thee that fer nowt", "eee by gum" and "fair to middlin" – try saying those without a Yorkshire accent!

We also had home made Yorkshire Pudding (Aunt Bessies don't count) and gravy (the thicker the better), hendersons relish (the Yorkshire replacement of Lea and Perrins) and rhubarb crumble and custard. I'll let you know when the next Yorkshire day is so you can join in with us!
Favourite thing about working for NQA?
Our clients make NQA a great place to work. We see some fantastic businesses on a daily basis from micro businesses just starting out on their journey to MNC organisations. No matter the size of the client, they are all on a journey of improvement. By ultising our training and certification services, all of our clients focus on adopting, embracing and nurturing an improvement culture.

We learn the best of practices from our clients and help share these with the rest of our clients. My favourite bit of this is that in actual fact all clients can learn from each other, the small from the big and the big from the small! By pulling our network of clients and consultants together, we embrace these conversations and look to support the certification industry in moving forward together.
Top tip for people looking at certification?
Do your research! We think we are the most supportive certification partner out there, but don't take our word for it! Do your research, shop around and make sure you pick a partner that understands your short, medium and long term requirements fully.

When looking at certification bodies, make sure you read the T&Cs fully! Lots of certification bodies have extra fees hidden in annual certification fees, or administration fees or travel and expenses. For the record NQA do not charge any of that to our UK clients – we make sure everything is fully included in your day rate.

Our implementation guides are a great starting point when trying to understand a new ISO standard and are all free to download from our website. We also support you on your knowledge journey by offering e-learning courses free of charge to our clients! Make sure you take us up on that, whether it is for yourself of your wider network of colleagues, we try to support you every step of the way without you incurring additional charges.

There is so much information out there, that is important you are comfortable with your decision. Chat with consultants and certification bodies alike as this is a really important step on your journey for certification, and make sure you speak to NQA.
How might you be able to help our readers?
My role allows me to meet clients, consultants, industry champions and external stakeholders. All of these channels provide me with insight into the direction of the industry and changes in the standards. I regularly look at trends and behaviours and change NQA's process and approach to ensure we provide you with the right products and service.

If you have an idea on how we can improve our commercial offering, our marketing or our customer experience get in touch! I would love to chat with you and understand how you perceive NQA, after all we are on our own improvement journey and you are an integral part of that! Email me – I'd love to have a chat with you.