About Us
Our story began in the UK in 1988. National Quality Assurance, known as NQA, was formed by NICEIC, to ensure that the UK marketplace adopted the best practice of management systems.

Fast forward to 2023 and NQA is now part of Element Materials Technologies, a global provider of Testing, Inspection, and Certification (TIC) services on a wide range of products, materials, processes and services.

Headquartered in London, Element's scientists, engineers and technologists collaborate with our global network of over 200 laboratories, and support customers from early R&D, through complex regulatory approvals and into production.

With this partnership, we are able to help our customers deliver products and services that are safe, compliant and trustworthy – making tomorrow safer than today.

Our services
NQA provides accredited certification, training and support services to help you improve processes, performance and products and services. We have issued over 50,000 certificates to clients in over 90 countries.
We help organisations of all sizes perform better in quality, environment, energy, sustainability and health and safety management. Moreover, we make sure that these improvements continue year in, year out.
Often, we will work in close partnership with consultants who can play a crucial role in helping to implement these management systems.
We specialise in management systems certification for:
Quality (including automotive and aerospace sectors)
Energy & environment
Health & safety
Information security
Our philosophy - Never stop improving
Every business can do better, consistently, continually and sustainably. That's what we believe at NQA and it's what we're here to help achieve. Our assessment, certification and training services enable businesses to implement change, improve management systems and build for future success.
What makes us different
We are passionate about helping our clients to improve their products, processes and people so they can deliver excellent customer satisfaction.
Our approach is pragmatic and supportive whilst meeting the rigorous technical demands and integrity of accredited certification.

You can expect:
Practical advice. We help you understand the technical requirements and stages of the certification process in plain English.

Improvement focus. We not only assess your compliance with your chosen standard, we aim to identify opportunities for improvement at every audit.

Comprehensive service. We provide a complete range of certification services with global coverage enabling you to integrate certification for greater efficiency.

Different ways to learn. Online, class-room and in-house courses. We think it's important that you can gain new technical skills your way.

Great value. No hidden fees, competitive rates and access to world-class technical support.

The latest technical advice. Our worldwide network of experts participate in technical committees and standards writing; we help you keep up with developments.
Our clients
We are privileged to work with diverse organisations including small businesses, charities, government departments and world famous brands like NASA.
See our range of case studies to find out how we helped them improve through certification.
Ministry of Defence's Employer Recognition Scheme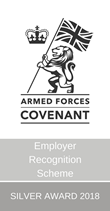 NQA has pledged to support the Armed Forces community, including existing or prospective employees who are members of the community. We are extremely proud to have successfully achieved the Ministry of Defence's Employer Recognition Scheme Silver Award!

The recruitment of Military Veterans is a strong objective within our recruitment strategy and we have recruited many veterans in 2017, 2018 and will continue to do so in 2019! Please refer to our careers page for details of any vacancies. Have a look here to see what some of our current ex-military employees think about working for NQA and their transition from uniform to a suit.
Our core values
"Our core values reflect what is truly important to us as an organization. These are not values that change from time-to-time, situation-to-situation or person-to-person, but rather they are the foundation of our company culture. As we grow, we want to maintain these values so that we can preserve what is special about our company." To read our core values in detail click here.
The NQA promise
ꭗ We don't and won't charge hidden costs like certification fees or admin fees
ꭗ We don't and won't increase audit time for transitions unless necessary
ꭗ We don't require a mandatory gap analysis audit prior to transition or certification
ꭗ We don't and won't charge premium prices
ꭗ We don't and won't request unnecessary audit days

✔ We will provide all-inclusive and transparent prices
✔ We will deliver excellent customer service
✔ We will provide added value through our audits and reports
✔ We will ensure our auditors are technically competent for your industry, not just a standard
✔ We will provide FOC Transition support material
✔ We will provide free e-learning courses and webinars to help you develop
✔ We will listen to you at all times
✔ We will increase our offering to support you in future certifications
Our customer charter
OUR PROMISE TO YOU
Our commitment to providing the highest standards of customer service are embodied in our client charter:
We will listen to you and commit to providing the best response, first time.
We promise to provide quality advice, technical expertise and highly skilled people to support you.
We will provide products and services designed to meet your needs that will evolve as your business grows.
We will deliver a timely and professional service.
We will be respectful, courteous and helpful at all times.
COMPLAINTS AND FEEDBACK
If you would like to complain or give feedback on any aspect of our service, please let us know.
Our Assessors
Get in touch
If you would like advice on any aspect of our service, please contact us.
Some of the companies we work with: