ISO 26000: Social Responsibility
What is ISO 26000?
Organisations and their stakeholders alike are rapidly becoming aware and accountable on their social responsibility. How an organisation can demonstrate its commitment to the welfare of society and the environment is becoming become a key measure in its overall performance, which reflects the growing recognition that we need to prioritise environmental, social, and governance matters.

In order to assist organisations in making real, verifiable commitment to sustainable development, the international standard ISO 26000 was developed. The standard provides practical guidance related to making social responsibility an integral part operational activities and therefore contribute to a wider sustainable development.

ISO 26000 outlines seven key principles, which it views as the roots of socially responsible behaviour:
Accountability.

Transparency.

Ethical behaviour.

Respect for stakeholder interests.

Respect for the rule of law.

Respect for international norms of behaviour.

Respect for human rights.
Helps you with
Assist organisations in addressing their social responsibilities while respecting cultural, societal, environmental, and legal differences and economic development conditions

Provide practical guidance related to making social responsibility operational

Assist with identifying and engaging with stakeholders and enhancing credibility of reports and claims made about social responsibility

Emphasize performance results and improvement

Increase confidence and satisfaction in organisations among their customers and other stakeholders

Achieve consistency with existing documents, international treaties and conventions, and existing ISO standards

Promote common terminology in the social responsibility field

Broaden awareness of social responsibility.
ISO 26000 and the Sustainable Development Goals
ISO 26000 is increasingly being seen as one of the key ways that organisations can work towards playing their part in contributing to the United Nations 2030 Agenda and its sustainable development goals, covering everything from sustainable communities and quality management to safety and measuring greenhouse
gases.

There are 17 sustainable development goals within the UN 2030 agenda as shown below: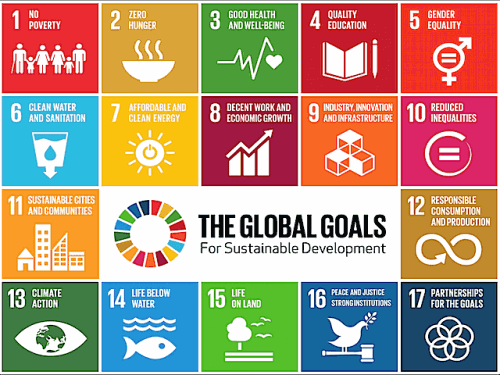 ISO 26000 offers practical guidance to any organisation, anywhere in the world, wishing to contribute to sustainable development. It helps them:
Understand how they currently impact society and contribute to sustainable development

Identify, engage and respect their relevant stakeholder expectations

Define which issues are relevant and significant and ensure they are prioritised for action

Comply with applicable laws and enable consistency with international norms of behaviour

Integrate responsible behaviour throughout their organisation and relationships
Benefits of ISO 26000
There are many benefits than can be achieved by following the guidelines set out in ISO 26000:
Competitive advantage

Reputation

The ability to attract and retain workers or members, customers, clients and users

The maintenance of employee morale, commitment and productivity

The perception of investors, owners, donors, sponsors and the financial community

Relationships with companies, governments, the media, suppliers, peers, customers and the community in which it operates
ISO 26000 is not a management system standard. It does not contain requirements and, as such, cannot be used for certification. Guidance in terms of communicating the use of the standard suggests that the wording:

"We have used ISO 26000 standard to integrate socially responsible behaviour into our organisation".
Steps to Certification
Step 1

Complete a Quote Request Form so we can understand you and your business. We will then use this to personally prepare a proposal for your certification and define what is known as your 'scope of assessment'.

Step 2

We will then contact you to book your assessment with an NQA assessor. It consists of two mandatory visits that form the Initial Certification Audit. Please note that you must be able to demonstrate that your management system has been operational for a minimum of three months and has been subject to a management review and a full cycle of internal audits.

Step 3

Following a successful stage two audit, a decision is made. If positive, your certification will be issued by NQA, with both a hard and soft copy of the certificate awarded. Certification is valid for three years and maintained through surveillance audits (years one and two) and a recertification audit in year three.
See more details
Social Responsibility Toolkit
Related Social Responsibility Content
What's next
Get in touch today to begin your journey to a greener, more sustainable business and a member of our team will be in touch to discuss your requirements: