Demonstrating Continual Improvement and Getting the Most from your Integrated Management System
19 April 2022
NQA Regional Assessor Lynn Jones gives practical advice on the value of 'near-misses' and how they can support continual improvement within an IMS.
Clause 10.3 of Annex SL standards such as
ISO 9001:2015
,
ISO 14001:2015
and
ISO 45001:2018
requires that 'The organisation shall continually improve the suitability, adequacy and effectiveness of the Management System'.
So… You have implemented your IMS and are diligently assessing risks and setting objectives, logging and taking corrective action from complaints, as well as addressing nonconformances from internal audits.
Everything's going well, accidents and incidents are being documented and you are taking action to prevent a recurrence but are you maximising the opportunity to continually improve the effectiveness of your IMS and your performance? If you are paying less attention to the 'near-misses' then it's quite likely you are not.
Near-misses represent a huge opportunity to reduce the risk of recurrence, share learning and prevent future customer complaints, as well as nonconformities, accidents and incidents.
When a near-miss occurs, those responsible are likely to identify any issues and take action to solve the immediate problem. Where many organisations fall down however is around the communication, reporting, recording, investigating and taking action to prevent the recurrence or escalation of the near-miss. This isn't ideal as it means that there remains an element of risk, and if you are reading this blog post, I'm sure you'll know that one of the primary aims of all Management Systems is to reduce risk!
In my experience, some organisations may not encourage this reporting as they think it may appear to interested parties such as parent companies, owners, external certification bodies, customers and regulatory bodies that they are not performing well if they log 'too many issues' when in fact the contrary is true!
Raising near misses should be actively encouraged and be seen as a positive contribution. If you don't know about an issue you can't fix it! It is in the course of employees daily work that these IMS near misses are identified; there are too many possibilities to mention but may include stock anomalies, incorrect delivery labels, an incorrectly picked order that is corrected, the trip or slip hazard that is removed, the newly identified environmental impact, or the spillage that was prevented, all of which can be seen as part of the normal daily routine.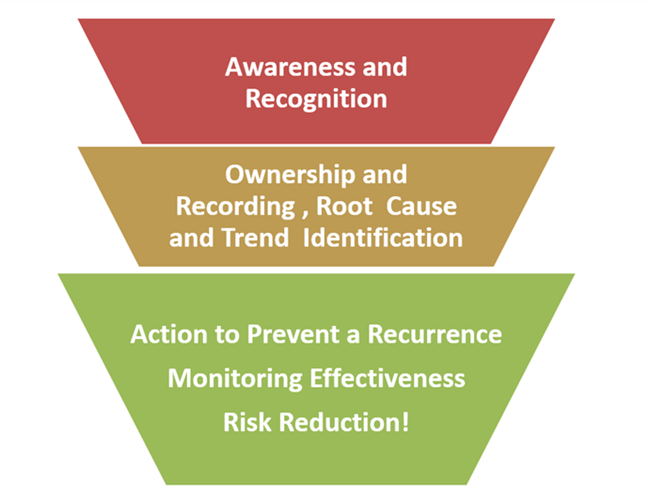 In an organisation with a positive continual improvement culture, all employees will be able to identify a Quality, Health & Safety or Environmental near-miss and be confident in highlighting and recording the issues identified.
This way everyone in an organisation from the apprentice to the top leadership are more likely and motivated to take ownership and make a direct contribution to the early intervention and continual improvement process.
Author - Lynn Jones, NQA Regional Assessor