Logistics Industry Standards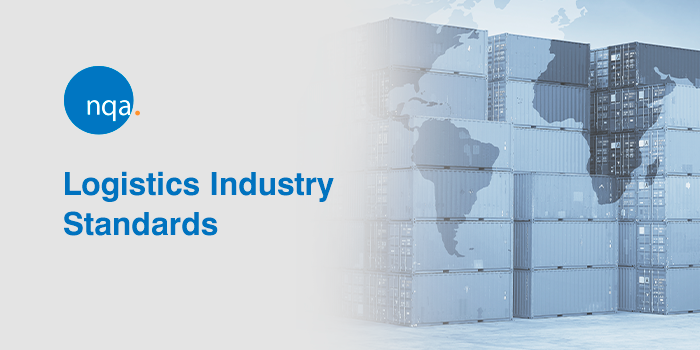 The logistics industry accumulates, transports and positions physical resources for distribution to the destination. Since many individuals and businesses rely on supply chain management for moving goods, the supply chain should be as manageable and visible as possible.
Logistics industry standards from the International Organization for Standardization (ISO) help logistics businesses manage their operations and resources to deliver orders efficiently. NQA is an accredited certification body that can certify that your company meets the requirements of various standards.
About the Logistics Industry
Logistics is the movement of products along the supply chain, from the resource's origin to the finished good's destination. This chain should operate efficiently and timely for maximum customer satisfaction. Companies in the logistics industry track orders, inventory and distribution. Through the supply chain, different parties can handle various components of the logistics process, including:
Product and goods sourcing
Manufacturing
Inventory
Handling and sorting
Transportation
Storage and warehousing
Some trends influencing the logistics industry are:
The rise of e-commerce and online ordering contributing to the growth of the logistics industry
Artificial intelligence (AI) and machine learning for accurate forecasting and better order management
Autonomous vehicles and drones as faster, more efficient delivery vehicles
Challenges the Logistics Industry Faces
Supply chain companies seek to cut transportation costs while implementing new technology innovations to boost productivity. Some challenges the logistics industry must face include:
Customer expectations: When customers place an order online in an e-commerce store, they want reliable package tracking to know where their delivery is. Many customers expect expedited shipping at the standard rate — most are not willing to pay extra for faster shipping.
Business process improvements: Many supply chain companies struggle to keep up with business process improvements. Though new processes improve the business, adoption and onboarding can be cumbersome.
Environmental regulation compliance: State and local governments have regulations that affect logistics, such as anti-idling and emission reduction. Complying with these regulations has a cost and can become overwhelming.
Fuel costs: As fuel prices increase, fuel surcharges — and transportation costs as a whole — increase too. The high fuel costs work against the logistics initiative to cut transportation costs.
Logistics Industry Standards Supported by NQA
NQA offers certification and audits for these supply chain standards:
ISO 9001: ISO 9001 is the most popular standard for quality management systems in the world. The framework and principles are a sensible approach to organizational management that satisfies customers and stakeholders. Quality control leads to efficient work and effective products and services, so ISO 9001 certification boosts your company's success and shows your customers you're committed to delivering consistent quality services.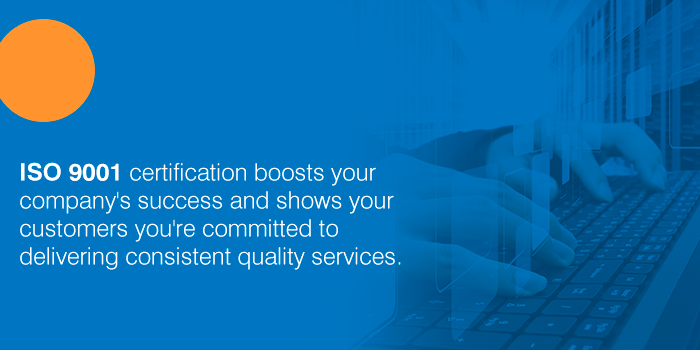 Benefits of ISO Certification for the Logistics Industry
The management systems outlined in ISO standards benefit the processes and procedures of your supply chain. Logistics industry standards will bring these advantages to your business:
Efficient product and services delivery
Better environmental performance across the supply chain
Compliance with regulations and legislation
Competitive advantage in the industry to win new business
Increased security risk management
Reduced operational costs
Improvements to new and existing business relationships
Enhanced reputation through demonstrating a commitment to excellence
Better trade with expedited delivery
Why Work with NQA for Logistics Industry Standards?
NQA is a certification body that has worked with clients in the logistics industry and related sectors, such as transportation. Our goal is to help companies improve their processes to be more efficient while meeting industry regulations. We have extensive experience with audits for ISO standards and have issued more than 50,000 certificates in 90 countries.
The benefits of working with NQA for logistics industry certifications include:
Reduced operating costs: Improving your processes with the frameworks outlined in ISO standards leads to better operational efficiency and cost savings.
Improved risk management: Avoid and resolve issues by tracing your products and services to the source.
Practical advice: NQA will help you understand the technical requirements and certification process stages so you can be prepared.
Competitive price: Working with NQA is a great value — for a competitive price with no hidden fees, you gain access to world-class technical support.
Legal compliance: You can comply with the regulations the logistics industry faces with ISO certification.
Start your Logistics Industry Certifications with NQA Today
The growth of the e-commerce sector means the logistics industry is more crucial than ever. Logistics industry certifications improve many aspects of your business, including operational efficiency, information security and energy management. The certification and auditing services at NQA will help your company achieve your desired certifications, so you can begin making these improvements.
Request a quote for an ISO standard audit to start the auditing process today. Contact us online for more information about logistics industry standards.