How to Get IATF Certification
05 April 2019
Employing a quality management system can help ensure consistent performance of automotive products. A technical specification called IATF 16949 can assist in creating such a system.


Working in the automotive sector requires a commitment to quality. The caliber of the parts used to make automobiles, as well as of the vehicles themselves, are crucial to ensuring customer safety and an enjoyable customer experience. Employing a quality management system can help ensure consistent performance of automotive products. A technical specification called IATF 16949 can assist in creating such a system.
What Is IATF 16949?
IATF 16949 is a technical standard for quality management systems in the automotive sector. It is one of the most widely used international standards for the automotive industry.
IATF is not a stand-alone quality management standard. Instead, it is a supplement to ISO 9001:2015, the quality management standard from the International Organization for Standardization (ISO) that applies to businesses across industries. ISO 9001 has a broader scope, and does not address considerations that are specific to the automotive sector. Because of this, IATF 16949 goes hand in hand with ISO 9001 to create an automotive-specific standard.
The International Automotive Task Force (IATF) developed the most recent version of the standard, which the ISO approved. The ISO also published earlier versions of the guidelines, beginning in 1999. The previous version was called ISO/TS 16949, which indicates the ISO published it and that it received the two-thirds votes required to become an approved technical specification. As of Sept. 14, 2018, certification to all versions released before IATF 16949:2016 have expired.
The IATF is a group of automotive manufacturers and trade associations that formed to improve the quality of automotive products for customers around the world. IATF members include the manufacturers Ford Motor Company, General Motors Company, FCA US LLC, PSA Group, BMW Group, Daimler AG, FCA Italy Spa, Volkswagen AG and Renault, as well as the trade associations AIAG of the United States, SMMT of the United Kingdom, ANFIA of Italy, FIEV of France and VDA QMC of Germany.
Who Does IATF 16949 Apply To?

IATF 16949 applies to organizations that are part of or related to the automotive industry. Some of these organizations include:
Automobile manufacturers
Manufacturers of automotive parts
Material suppliers for automobile and automotive parts manufacturers
Automotive design centers
Automotive distribution centers
Quality management organizations that work with automobile manufacturers
Other organizations that work in the automotive industry or are related to it
What Does in IATF 16949 Include?
IATF 16949 defines requirements for a quality management system for the design, development, production, assembly, installation and service of automotive-related products. A quality management system, or QMS, is a set of processes and policies designed to ensure the consistent excellence of an organization's products or services. ISO 9001 lays out a framework for a QMS that is applicable across industries. IATF 16949 uses the structure of ISO 9001 and includes some requirements specific to the automotive industry. IATF provides two manuals — one for IATF 16949 and one for ISO 9001 — to companies seeking certification.
Some of the aspects of an automotive QMS IATF 16949 focuses on include:
Process efficiency and effectiveness
Defect prevention
Customer satisfaction
Supply chain optimization
Continuous improvement
While the text of the two standards is not identical, much of it is similar. The use of a shared structure makes it easier to use the two guidelines together, as well as with other ISO standards that have the same structure.
IATF 16949 includes the same 10-part structure as ISO 9001.
Section 1: Scope: This section is introductory and defines the scope of the standard.
Section 2: Normative References: This section identifies the other documents referenced within the standard, which are necessary for its application.
Section 3: Terms and Definitions: This section defines relevant terms.
Section 4: Context of the Organization: This section helps the organization determine its context, including the needs and expectations of interested parties, in terms of the QMS. It also outlines general QMS requirements.
Section 5: Leadership: This section discusses the role of an organization's leadership in implementing the QMS. It also defines corporate responsibility and quality policy. It notes management must demonstrate leadership and a commitment to the QMS, as well as assign roles and responsibilities related to the QMS, including that of process owners.
Section 6: Planning: This section includes requirements for creating plans to address risks and opportunities, risk analysis, quality objects, preventive actions and contingency plans.
Section 7: Support: This section covers requirements for supporting processes and resources. It defines requirements for people, organizational knowledge, work environment, awareness, communication, monitoring and measuring resources, infrastructure, auditor competence and documented information.
Section 8: Operation: This section provides requirements related directly to products and services, including processes for planning, designing, reviewing product requirements, purchasing and creating them. Companies can disregard certain aspects of this section if they aren't relevant. If a company isn't involved in product design, for example, it can ignore those related requirements.
Section 9: Performance Evaluation: This section covers requirements for monitoring and evaluating the performance of the QMS. It discusses methods used for internal audits, monitoring manufacturing processes, management reviews and evaluating customer satisfaction.
Section 10: Improvement: This section deals with the continual improvement of the QMS and includes requirements related to nonconformities and corrective actions.
Why Become Certified?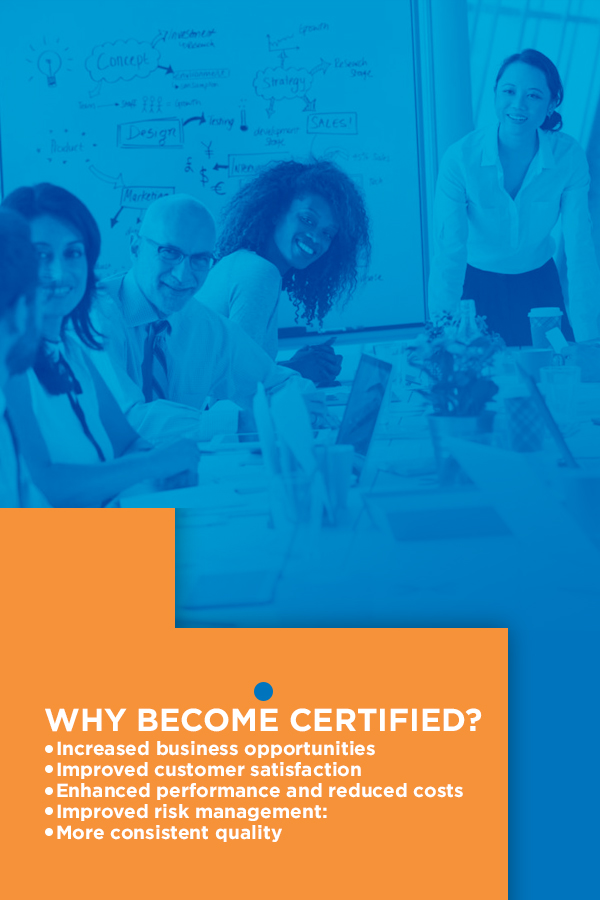 IATF benefits companies within the automotive industry, resulting both from compliance with the requirements of the standards and from having certification itself.
Increased business opportunities: Having certification to an internationally recognized standard demonstrates your company's credibility and commitment to quality. These attributes make manufacturers, suppliers and others within the industry more likely to work with your company. Manufacturers that subscribe to IATF also require many of their suppliers to have certification to IATF 16949. Certification opens the door to opportunities that might otherwise be unavailable.
Improved customer satisfaction: IATF 16949 helps you ensure the consistent quality of your products and provides greater assurance you will be able to meet and exceed customer expectations and improve your reputation.
Enhanced performance and reduced costs: IATF 16949 helps you continually improve your processes, resulting in increased efficiency and less spending. The standard focuses on improving efficiency within the supply chain.
Improved risk management: The specification's focus on risk management helps businesses improve their understanding of risks and minimize those risks. It does so in part by enhancing product and service traceability and consistency.
More consistent quality: As a quality management standard, IATF 16949 helps you establish and maintain an excellent management system. This system enables consistency, competence and control throughout the supply chain and results in consistently outstanding products.
How Can You Become Compliant With IATF 16949?
Achieving compliance with IATF 16949 will require substantial effort. Your company will have to study the requirements of the standards and alter its processes to adhere to them. Achieving certification, however, will be worth the required time and effort.
It's important to remember IATF 16949 is a supplement to ISO 9001. To receive certification to IATF 16949, you also need to comply with the requirements of ISO 9001. You don't necessarily need to earn a second certification to ISO 9001, but you do need to follow all its obligations. If you already have a current ISO 9001 certification, you'll only need to pay attention to the parts of IATF 16949 that are specific to the automotive industry. Otherwise, you will need to consider the requirements of both standards.
To achieve compliance, you'll need to put together an action plan. Here are some example steps to an action plan for accomplishing that goal.
Study the requirements: The first step is to study the requirements of both ISO 9001:2015 and IATF 16949:2016. You may choose to explore training and internal auditing resources that will help you get familiar with the standards.
Conduct a gap analysis: Next, perform a gap analysis, which involves comparing your organization's current processes and standards to those described in IATF 16949 and ISO 9001. The gap analysis is valuable for determining whether your existing procedures align with the IATF and ISO guidelines. If not, you must address it.
Prepare for implementation: Then, use the results of the gap analysis to guide the development of a plan for implementing the new standards. Be sure to identify specific, measurable goals tailored to the needs of your organization.
Train personnel: Next, identify personnel involved in the implementation process. These individuals should receive comprehensive training on the standards and the plan for their implementation. Ensure they have a thorough understanding of their roles with the plan's framework.
Implement the plan: You should now be ready to put your plan into action. Address any problems that arise during implementation, and adjust your strategy as needed. Be sure to document all changes properly.
Conduct an internal audit: Next, you may wish to conduct an internal audit before scheduling your official external certification audit. An internal audit can help you identify any areas you may have missed and ensure you're ready for your certification audit.
Schedule an external certification audit: Finally, you can contact an accredited IATF certification body to conduct official certification audits. Look to the next section for a detailed explanation of this process.
What Are the Steps to Certification?
When working with NQA as your certification body, there are three main steps in the certification process: application, assessment and certification.
Application: First, you'll fill out an application form. You can use either our online quick quote form or formal quote request. The form you submit will give us information about your company and its requirements and will help us define the scope of the assessment. Once we've received this information, we will provide you with a proposal for certification.
Assessment: Once you agree to the proposal, you can book your evaluation, provided you can demonstrate your QMS has been operational for at least three months and has undergone a management review and full cycle of internal audits. Our assessment will include two mandatory visits. We'll explain the audit process in more detail below.
Certification: After completing the audits, we will make a certification decision. If your QMS meets all the requirements, we will issue hard and soft copies of the certification. The certification is valid for three years. To maintain certification, your system must undergo annual surveillance audits and a three-year recertification audit.
The assessment process consists of the following steps. The initial certification audit consists of two stages.
Initial Certification Audit Stage One

The first stage of the initial certification audit aims to confirm your organization is prepared for the full assessment. It consists of a documentation review assessment.
After the stage one assessment is complete, the auditor will provide you with a report that identifies any noncompliance or improvement opportunities. If necessary, you will create a corrective action plan. You will also schedule your stage two assessment visit and come up with a plan for your stage two assessment.
Initial Certification Audit Stage Two
Stage two of the initial certification audit aims to confirm your QMS conforms fully to the requirements of IATF 16949 in practice.
After completing the audit, the assessor will report any nonconformities or opportunities for improvement. If the auditor identifies any major issues, you must take corrective before receiving certification. You must correct the issue within six months to receive certification without a further stage two assessment. NQA must also verify the corrective action.
If the auditor does not find any major nonconformities, you will receive certification. The auditor will also provide you with a surveillance plan and set up a date for your first surveillance visit.
Surveillance and Recertification Audits

To maintain your certification, your system must undergo an annual surveillance audit, which is a partial audit of the system. During the surveillance audits, you must be able to demonstrate continual improvement. After three years, you must pass a recertification audit, which is a full system audit, to renew your certification. If your company changes during this process, we can adjust as necessary.
If your organization is involved in the automotive industry as a manufacturer, supplier or otherwise, it can benefit from compliance with and certification to IATF 16949. We encourage you to look into the standard, how it can benefit your organization and its customers and how to implement it.
The certification body you work with is an essential part of the certification process. NQA is a fully accredited certification body, and we have conducted more than 35,000 certifications across 70 countries. We emphasize providing value and outstanding service to our clients. In addition to ensuring your QMS meets the requirements of IATF 16949, our audits will also help you improve your organization.
Wherever you are in the process of achieving compliance and certification to IATF 16949, please browse our website or contact us with any questions you may have to learn more about IATF 16949, NQA and our certification process.