Pharmaceutical Industry Standards

Pharmaceutical manufacturing is a major industry worldwide, producing the medications and drugs people need for their health. Because pharmaceutical products are critical to well-being, the industry is highly regulated and has strict procedures to follow.

ISO certifications for pharmaceutical companies help them manage their operations while staying compliant. NQA is an accredited certification body that has worked with many pharmaceutical businesses for certification auditing.
About the Pharmaceutical Industry
The pharmaceutical industry discovers, develops and manufactures drugs and medications. Fields within this industry include researching new medications, working with chemicals to create drugs and following regulations from government agencies, such as the Food and Drug Administration (FDA) in the United States.

Major pharmaceutical products include drugs for:
Musculoskeletal disorders
Cardiovascular diseases
Bacterial, viral, fungal and parasitic infections
Oncology
Metabolic disorders
Central nervous system disorders
Respiratory diseases
Several trends drive growth in the pharmaceutical industry because they create a need for medication and drug treatments or otherwise help pharmaceutical companies. These trends include:
The prevalence of sedentary lifestyles and an aging population increasing chronic disease frequency
High pollution levels in urban areas contributing to conditions like asthma
Research and development (R&D) data services allowing clinical trial data to be used in trial simulations
New drugs facing low regulatory barriers in some countries
Challenges the Pharmaceutical Industry Faces
Pharmaceutical manufacturing entities often encounter these challenges in their operations:
Reduced R&D investments: Though many health conditions could benefit from new, more effective drug treatments, many pharmaceutical companies have reduced their investments in launching new pharmaceutical products. High failure rates, high drug development costs and low returns on investment discourage the pharmaceutical industry from product development.
Government and insurance company policies: Government regulations affect drug regulations, which can make new treatment launches slow and cumbersome. Insurance companies decide who the payer is and set reimbursement standards.
Consumer attitudes: Some consumers distrust medications and are more willing to try alternative therapies.
Drug affordability: Many medications are not affordable for patients due to their income or the price of the drug, even with health insurance coverage.
Pharmaceutical Industry Standards Supported by NQA
ISO pharmaceutical industry certifications include:
ISO 9001: ISO 9001 is the most widely used quality management standard internationally, and it provides a framework and set of principles for organizational management. Certification to this standard helps your business achieve customer and stakeholder satisfaction. ISO 9001 can be integrated with other management systems, like ISO 14001, to improve management system integration.
ISO 13485: ISO 13485 is the standard for medical device management. Medical devices need to meet regulatory compliance laws and patient needs, so this standard helps companies meet these requirements during the manufacturing phase. Adherence to ISO 13485 allows companies to create a more effective work environment while managing safety and legal risks.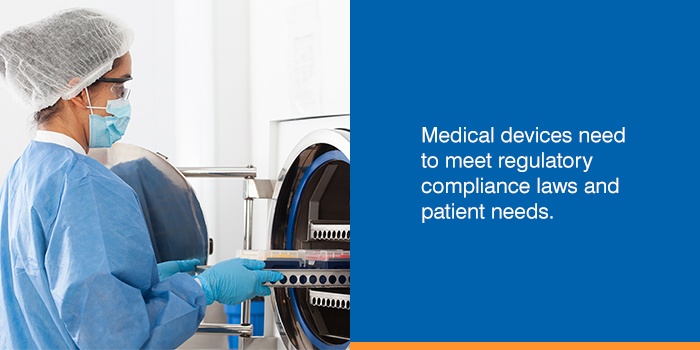 Benefits of ISO Certification for the Pharmaceutical Industry
ISO certifications for pharmaceutical manufacturing offer these benefits to your business:
Improved organizational performance: ISO certifications require the establishment of quality controls that will help your organization run more effectively. The certification process is an opportunity to analyze your business performance and identify improvements to aid efficiency.
Lower risk to employee safety: When your pharmaceutical manufacturing company complies with safety standards, you protect the health of employees involved in the manufacturing process.
Reduced energy costs: Working toward lower energy costs with ISO 50001 certification results in cost savings, and your business can direct these funds toward essential operations.
Compliance with federal and international regulations: Your business can meet pharmaceutical industry standards through ISO certification and the quality controls you implement.
Ensured quality standards: Pharmaceutical industry certifications promote the use of known best practices, so your business will manufacture safe and effective pharmaceutical products.
Better data protection: Companies in all industries are encouraged to have a comprehensive information security management system. Certifications like ISO 27001 ensure your information is protected so you can foster trust with your employees and customers.
Why Work with NQA for Pharmaceutical Industry Standards?
NQA is a certification body offering certification audits to help your business meet industry standards and optimize your operations. We want to help pharmaceutical industry companies improve their pharmaceutical products and processes while meeting crucial government regulations.

We have experience with pharmaceutical industry certifications and standards for other related industries, like medical devices. During our years of ISO certification, we have issued more than 50,000 certificates in 90 countries.
When your pharmaceutical manufacturing business works with NQA, you will receive:
Proven business credentials: Getting an independent verification for a globally recognized industry standard proves to your customers that you take regulatory compliance and customer well-being seriously.
Comprehensive service: Our various certification services will improve your organization's efficiency since ISO certifications are known for their excellent results.
Legal compliance: Your company will better understand how regulatory and statutory requirements impact your company, stakeholders and customers.
Competitive pricing: Working with NQA is valuable because we offer cost-effective certification services with no hidden fees.
Get Started Today on your Pharmaceutical Industry ISO Certifications
The pharmaceutical industry needs to ensure that its operations are managed well to promote quality control, employee safety, eco-friendliness and regulatory compliance. NQA has several certification and auditing services to help you reach these ISO industry standards.

Request a quote for an ISO standard audit on our website to begin the auditing process for your pharmaceutical manufacturing business. Contact us online for more information or if you have any questions.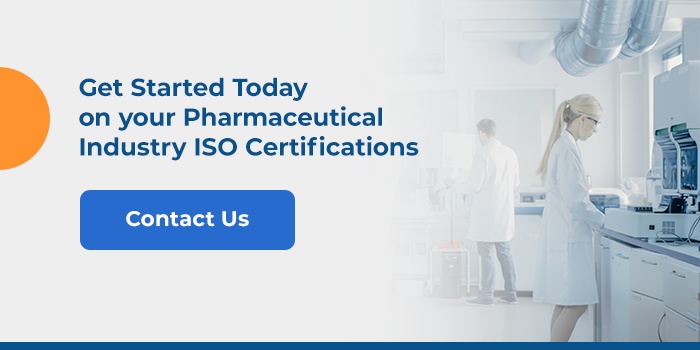 Ready to start your journey?
We'll give you a clear indication of the costs of gaining and maintaining certification.
Not ready yet? Call us on 0800 052 2424 or
request a callback
to discuss your certification requirements.