6 Tips for Choosing an ISO Management Systems Consultant
30 March 2016
Finding the right ISO management systems consultant is an important decision, particularly for organizations that are searching for a consultant for the first time.
Many organizations use a consultant to help them implement a management system, often with the goal of achieving or maintaining certification to an ISO management systems standard. Some organizations also retain the consultant after implementation to act as their management representative or internal auditor.

There is no doubt that management system consultants can be a very valuable addition to your team, either on a temporary or longer-term contract. But like any partnership, it is an important decision to get right.

So, what are the key considerations during your search for the right consultant?
1. Be clear about the reason for hiring a consultant
Management systems and management systems standards cover a range of management disciplines across the full range of organizational functions. Depending on your starting point, it is crucial to decide on the level of support and resource required.

Consultants can perform various supporting roles such as:
Advisory by interpreting the standards and guiding managers on implementation

Management by project managing the implementation in part or in full

Implementation by providing extra hands-on resource to implement plans or undertake specific tasks such as internal audit

On-going support by performing regular activities such as internal audits
There are many stages at which a consultant can provide support – typically these could be that:
The organization has no formal management system. The challenge here is to decide what is missing before planning detailed implementation. In this situation it may be useful to ask a consultant to perform a gap analysis and an estimate for implementation.

The organization has a mix of informal management and formal management system elements. The consultant may help structure the management system and ensure that all requirements of the management systems standard are met.

The organization has implemented a formal management system against a management systems standard. In this case the consultant may ensure the system is ready for certification audit, perform internal audits or advise on certification body selection.
2. Look for Experience and relevance
For a successful working relationship and management systems implementation, it is important to select a consultant based on relevant experience.

Some important factors to consider are:
Industry experience. Has the consultant got expertise in the industry your organization operates in and its core activities?

Management systems experience. Has the consultant got a track record of implementing management systems in the relevant discipline e.g. quality, environment, energy, health & safety, information security etc.

Standards experience. Has the consultant got experience of interpreting and implementing the requirements of the relevant standards e.g. ISO 9001, ISO 14001, OHSAS 18001 etc.

Certification body allegiance. If your goal is to achieve certification, it is important to know if your consultant has relationships with different certification bodies and can help you with that important selection.
3. Establish Rapport
Your consultant will be spending a lot of time in your organization, with close access to your processes and people, so you need to a build good rapport and mutual trust with each other.

A face-to-face meeting to build rapport is highly advisable before going further with the selection process.
4. Understand their Approach
Depending on the size and scale of the management systems implementation, your consultant may use a number of different methods and techniques. These could require different levels of support and cooperation, so it is important to understand the implementation methodology to ensure that both parties work effectively together.

Your consultant will require your time, energy and resource to ensure effective implementation – make sure you understand their expectations and are able to commit to them.
5. Cost and Contract
Budgets are rarely limitless, but cost should not be the key deciding factor in selecting a consultant. Expertise, experience and rapport are extremely important to ensuring that expectations are met.

However, in relation to cost and the contract to supply, it is critical to know:
how the consultant will charge e.g. day-rate or fixed project cost, in advance or arrears

what is and isn't included e.g. travel and subsistence

who owns the intellectual property of the management system

service level agreements

availability of the consultant when you need them
It may be useful to compare costs with 2-3 consultants before making a firm commitment.
6. Check References / case studies
Your consultant should be able to provide references, which allow you to gain firsthand insights from past clients and understand how the consultant was able to help them accomplish their goals.

Many consultants publish client testimonials and case studies on their websites. By learning about their credentials, you'll be better equipped to make an informed decision.
More Guidance…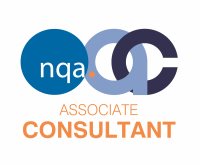 Coming to the right decision may seem difficult at times; to help you through this process, NQA provides the Associate Consultant Register (ACR) that features consultants with proven experience of helping clients achieve their ISO management systems goals.

Please note, however, that in accordance with the accreditation standard ISO 17021:
NQA does not provide consultancy, in order to remain impartial from management systems implementation

NQA shall not imply that certification would be simpler, easier, faster or less expensive if a consultancy listed on the ACR is used

ACR Consultants shall not imply that NQA certification would be simpler, easier, faster or less expensive if their services are used.
Following the 6 Tips to Choosing a Consultant should give you the confidence to choose the right consultant for your management systems implementation and improvement.