Transition from Serviceman to NQA Assessor
17 November 2016
This case study highlights influences and experiences which Kevin feels have prepared him to successfully make the change from being a serviceman to a becoming an Assessor with NQA.
KEVIN GUNN: TRANSITION FROM SERVICEMAN TO NQA ASSESSOR
Kevin's Career Path: Kevin joined the Royal Air Force (RAF) in June 1989 directly after finishing secondary education. Following his six weeks basic training at RAF Swinderby, he progressed on to his Trade Training at RAF Halton to become an Airframe Mechanic. He passed out as a leading Aircraftsman in February 1990 and joined his first Operational Squadron (237 Operational Conversion Unit) at RAF Lossiemouth.

Kevin spent 4 years on 237 OCU working on Buccaneer and Hunter Aircraft where his typical duties included the daily preparation of Aircraft for flight, basic routine maintenance and the replacing and testing of complex aircraft system components.

He then found himself posted to the Tornado Hydraulic Bay as the Tornado replaced the Buccaneer. Typical tasks in this role were the routine servicing and testing of electro-hydraulic fly-by-wire actuators, pneumatic component, landing gear and life supporting systems and associated grounds equipment.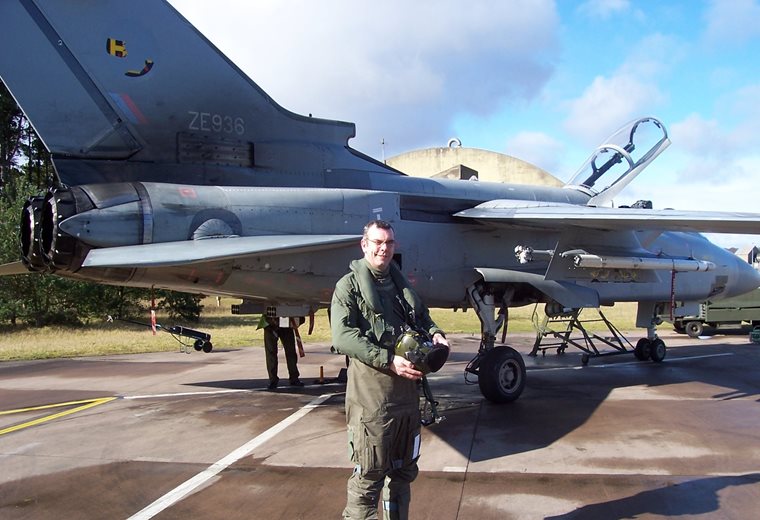 On the completion of further Training and becoming an Airframe Technician, Kevin spent 10 years on a fully Operational Tornado Squadron at RAF Leuchars where his duties varied depending on his rank. These included, supervising teams of engineers and carrying out independent inspections whilst testing during fault diagnosis, rectification and routine maintenance of complex electro-hydraulic aircraft control systems. Latterly, as a Senior Non- Commissioned Officer whilst still at RAF Leuchars, he had the sole responsibility for the servicing and maintenance of life supporting aircraft oxygen components and provision of liquid oxygen whilst maintaining the related ground equipment.

Also during these latter years, his position mandated that he carry out Quality Assurance Training namely; IQA Certificate, Management of Quality Assurance & IQA Certificate, Quality Audit Skills Course and he quickly became competent in conducting Audits within his section and other sections within RAF Leuchars and found that he enjoyed this secondary role.

As part of his preparation to leave the RAF, he studied and gained Health & Safety Qualifications too namely; IOSH Managing Safely, the NEBOSH General Certificate in Occupational Health and Safety, the NEBOSH Certificate in Fire Safety and Risk Management and finally the NEBOSH Diploma in Occupational Health and Safety.

He also took advantage of mandated Management and Leadership Training gaining the ILM Certificate in First Line Management and achieving a Licentiateship of the City & Guilds Institute in Management and Leadership. This training reinforced the benefits of working under an effective Management System and with an administrative system which guaranteed both robust working practices and the necessary results being achieved under what could be tight time constraints and arduous scenarios and environments.

Although Kevin was offered a further 8 years' service, he decided to leave the RAF in March 2012, aged 40, when he took up his first position as a QHSE Manager with a local Engineering Business. This role included, within the first nine months, successfully achieving Certification to AS9110 from the existing ISO 9001:2008 Certified Management System which was a Rolls-Royce requirement, the company's largest and most influential customers. This was a period of intense and accelerated learning for Kevin as the QHSE Manager in what was a military and civil aerospace engine component repair and overhaul facility but something that he would reap the benefit of later as an assessor with NQA.

Kevin then decided that he wanted to explore the Oil and Gas Industry after being offered a position with another certification body as a QHSE Auditor. This role initially involved conducting second party/supplier Audits and conducting supply chain management for various Oil and Gas related companies. This involved studying and gaining the Lead Auditor qualification in both OHSAS 18001:2007 and ISO 14001:2004. Kevin was asked to carry out a different role but this was not really part of his intended personal development or career path. Another discovery around the same time was that Kevin realised he did not want to spend the rest of his working life in the same office, at the same desk and behind the same computer!

He revised his CV and after posting it on various websites found out that NQA was looking to expand and employ more Assessors. Following a successful interview and enrolment, Kevin began as a third party QHSE Assessor with NQA in February 2016 and has never looked back, enjoying each Audit he conducts, visiting a vast variety of SME's working in various industry sectors.

Travelling is a significant part of the job but it is something he enjoys and, although you are fully supported, being left to make his own decisions and manage his own time whilst still meeting his targets is something that he is thriving on. He also enjoys meeting a wide variety of people working at various levels within these businesses from the QHSE Managers to the CEO and gets a great deal of satisfaction out of knowing that he is contributing towards improving their business and preparing them for new challenges which may lie ahead.

Influences and experiences which Kevin feels have prepared him to successfully make the change from being a serviceman to a becoming an Assessor with NQA.
RAF
Kevin feels that his time in the RAF had the biggest influence on him deciding on his eventual career path as an Assessor/Auditor. The RAF and the armed forces in general, have been decades ahead of the majority of civilian companies in terms of seeing the benefit of encouraging all levels of employee to engage in continually improving their systems. If done effectively, this can prevent recurrence of issues which can result in lost time and rework costs when it could really matter. Attention to detail is essential in some roles within in the RAF, without which would eventually result in errors being made which could have a profound effect to operation and flight safety.


Personal pride and professionalism in their work is driven into serviceman from the very beginning of their career and is a key attribute which servicemen sometimes take for granted. Since leaving the RAF, Kevin has witnessed some business' operations which have become completely ineffective because of key managers not understanding the benefit of planning, maintaining set standards, self-improvement and self-checking existing procedural controls. Particularly as an Aircraft Engineer in the RAF, there is the need to be able to robustly reproduce the exact same result in terms of maintaining the Aircraft to various stringent aviation authority guidelines whilst aiming to make them airworthy, fit to carry humans safely and with no impact to Flight Safety. Kevin also feels that following mandated maintenance procedures to the letter to achieve this also gives you the ability to concentrate on the finer detail whilst keeping an eye on the bigger picture in terms of timekeeping and planning.

The administrative and operational structure which you become accustomed to allows you to concentrate on achieving this to your best ability and this undoubtedly comes from the armed forces' work ethos and keeping quality, health and safety & the environment at the forefront of all their priorities whilst investing in the people through training and 360 degree communication and performance reviews.

As an assessor in civilian street, you have to quickly realise that this will not necessarily be the case in the vast majority of cases and tailor your approach accordingly but Kevin feels that the military background and his engineering knowledge which he has gained through the very best of training, coupled with the personal aspiration to keep learning whilst not sitting at the same desk, has put him in good stead to transfer his skills and become an effective assessor.

Looking back to the time when he was going through his resettlement period, in conjunction with the Career Transition Partnership, he remembers that, on average, servicemen will go through in the region of 3 or 4 jobs before finally working out what it is they want to do as a new career. Kevin feels that he has finally reached this point but also appreciates the experiences and knowledge gained whilst working this out.