Graham Pest Control Case Study
07 October 2021
Graham Pest Control, who began trading in 1993, wanted to ensure that their integrated system would standardise all of their processes, procedures, and management systems across the company and meet the requirements of internationally recognised Standards.
Standards:

About Graham Environmental Services
Having spent 23 years in the Pest Control industry working for one of the country's largest Pest Control companies, Jim Graham (father of our two Directors, Ross and Stuart Graham) decided that a more personal and flexible pest control service was needed. So, with his wife Anna, Jim formed Graham Environmental Services Ltd. in 1992. Since then, they have built a solid reputation for being an efficient, reliable, and effective provider of pest control services to private householders and business owners alike, growing into one of Scotland's largest independent Pest Control Companies.

Graham Pest Control currently have 65 full time employees, with technicians based all around Scotland. Their main office is based in the heart of Scotland in Blairgowrie, Perthshire. They have two sister companies, Graham Hygiene Services and Graham Fire Protection.

Graham Hygiene Services specialise in services such as kitchen deep cleaning, washroom services, house clearances, PAT testing and many others.

Graham Fire Protection cover a range of fire protection services such as fire extinguisher sales and servicing, fire safety signage, fire risk assessments and fire alarms, lighting, and security to give customers peace of mind in protecting their premises from fire.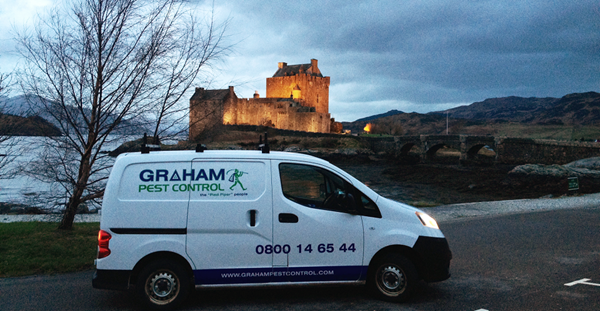 Overcoming Challenges
Graham Pest Control went for ISO certification to standardise processes, procedures, and management systems across the company. As the company grew and evolved, it was getting more challenging to manage the business from the top with different teams carrying out their own ways of working. Implementing the ISO management system has allowed them to standardise a lot of forms and documents, so all employees are aligned and working from the same central location.

They have known about ISO for some time as a lot of tenders and large commercial businesses they deal with asked to be certified to ISO standard. It was one of these accreditations that they strived for but did not necessarily need at the time, nor did they have the manpower to implement it.

The opportunity for implementation arose when Managing Director's Son, Jamie Graham, graduated from University in 2020 and joined the family business full time. One of the first tasks Ross Graham (MD) set Jamie was to guide the business through the ISO process. With the help of experienced consultant Clark Boles and getting employees on board with new ways of working, certification was gained in May 2021. Certification is only the beginning as continual improvement is a key aim of Graham Pest Control and a large part of ISO. With the drive of GPC's senior management team and buy-in from GPC employees, ISO will form a basis for the next chapter of Graham Pest Control's growth.
Working Towards Certification
Jamie Graham took the lead for the ISO process with help from Clark Boles, External Consultant and Tom McLevy, GPC Compliance Manager. It was a lot of man hours to get them over the line and in time for their NQA assessment. They experienced high levels of growth since New Year 2021, notably taking on 15 new members of staff since January.

Business always comes first so the ISO process sometimes either slipped off the radar for a while or was completed outside of usual business hours. They got there in the end, having passed their NQA assessment on the first attempt. The next few months after certification was used to roll out our new management system to all employees.
Benefits to Implementing Management Systems
Graham Pest Control have seen their company take a step up in professionalism with implementing ISO. For example, a lot of their documents had different layouts or different formats due to different employees creating them – this has now been standardised.

The documents which are relevant to the running of the business are now stored in one central on-line location and easy to find for all employees to access (with restrictions). Before, it was a task in itself to find some documents or the documents which are most up-to-date.

They will use their ISO management system as a framework for growth, their management system will still evolve as they grow but having it based on ISO requirements, growth can be more manageable for senior management.
Plans for the Future
The ISO process went as work-based planned but may not of went to plan with time scale or speed of implementation. Some of the process was maybe crammed due to business needs and their high period of growth after the Covid pandemic. Now business is under control and the pandemic is settling, they can roll out ISO management functions to the necessary members of staff and start preparing to implement ISO 45001 Health and Safety Management which they aim to achieve certification in 2022.

"I am absolutely delighted to have achieved the ISO 9001 and ISO 14001 accreditations which I feel elevates Graham Pest Control to a different level within our industry and should open doors into different sectors where we currently do not operate. I would like to pay enormous credit to Jamie Graham (Business Manager) who led the project, assisted by Tom McLevy (Compliance Manager), Clark Boles (External Consultant) and Kevin Gunn (NQA) for their professionalism throughout the process. It is one of the most rewarding accreditations our company has ever achieved and should stand us in very good stead for the growth period we hope to achieve over the coming years." - Managing Director Ross Graham.

For more information Graham Pest Control please visit here.

Read more of our case studies to learn about our clients and their accomplishments, or contact us today for a free quote for certification to any of the standards mentioned above.