NQA Salutes Our Forces During Armed Forces Week 2021
21 June 2021
Each year the NQA Team celebrates Armed Forces Day, which pays tribute to the Armed Forces community for their hard work, dedication, and efforts to keep us safe, both in the UK and across the globe.
As an employer NQA recognises the qualities, skills and technical expertise that service-leavers bring with them as they transition into the world of work as civilians. We are proud to hold a Silver Award in the Armed Forces Employer Recognition Scheme, which enables employers to demonstrate their support and commitment to those looking to exit the services.

We continue to employ, train and support those looking for a smooth transition into a new career where they can continue to utilise key skills that they developed in the military.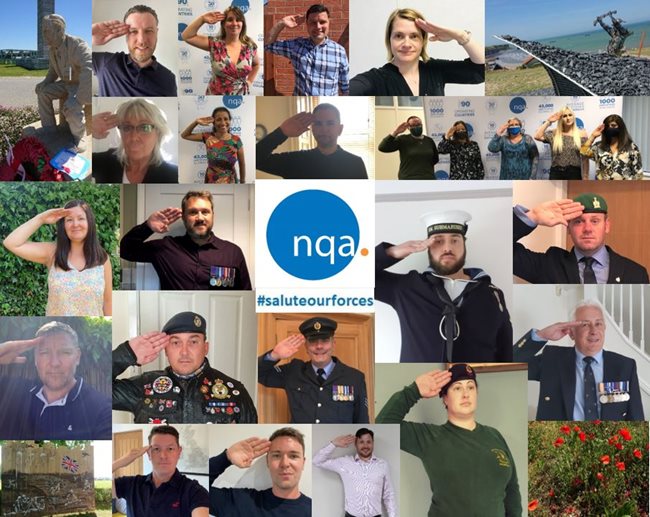 NQA is also an MOD ELCAS approved learning provider, giving individuals the opportunity to achieve a qualification with the aim of becoming a Lead Auditor in either Quality, Health & Safety, Environmental, Information Security or Energy management systems.

Find out more about the ELCAS scheme here.

As we reflect on the valuable contribution our military veterans make to NQA, we asked a number of our employees with a military service background about their experience of working for the organisation:

Judith Hargreaves, Regional Assessor
"I had been out of the armed forces a long time before joining NQA, however, being a veteran has had mixed responses from previous employers. The cultural atmosphere of NQA is unique in my experience; the transferable skills veterans bring are embraced, leadership, communication, technical trade knowledge, discipline, problem solving and integrity are utilised and recognised. All employees are invested in at NQA, a huge outlay is put into us before we start in terms of training so that we are competent to audit, however we are listened to if we can see a quicker and more effective way of doing things – no soldier wants to take the long way round! Having more and more ex-military join the company has created a second family within the NQA family, best of both worlds!"

Archie Gemmell – Regional Aerospace Assessor
"NQA have made the transition to Civvy Street seamless, they were there to provide help and support whenever required. They took a proactive approach to the employment of military personnel with commitment demonstrated through signing up to the Armed Forces Covenant and the awards scheme."

David Nutbrown, Regional Assessor
"Part of NQA's appeal was its commitment to the Military Covenant and the support it gives to its small band of veterans and reserves. Armed Forces Day will be a great opportunity to pause and reflect on the journey that I have taken since leaving active service back in May 2020. The wide ranging experiences I gained during my time in the military have been recognised by NQA and I hope that these experiences will bring many benefits to the field team. I will be raising a glass to friends and colleagues; past and present on 26th June."

Find out more about Armed Forces Covenant here.

To read more about Armed Forces Day click here.