Loanhead Firm Scoop Environmental Award
23 October 2018
Loanhead-based company Grange Door Systems' commitment to carbon reduction has been recognised at the 2018 Carbon Trust Assurance Awards in London.
Grange Door Systems won the Best in SME Carbon Management award as, thanks to their investment in rooftop solar PV and lighting controls, they had the largest reduction in their carbon footprint for an SME.

The awards were presented by London's Deputy Mayor for the Environment and Energy, Shirley Rodrigues, and recognise companies that have excelled in their environmental impact reduction efforts over the past year.

Grange Door Systems' Managing Director, Kevin Reilly said, "I'm delighted that we were among the winners at this year's Carbon Trust Assurance Awards, as it reflects our decade long commitment to reducing our carbon footprint. The award not only reflects the dedication of our team but it is also a testament to our long-term partnership with Beyond Green, who have been with us at every step of our carbon journey, providing inspiration, insight and impartial guidance."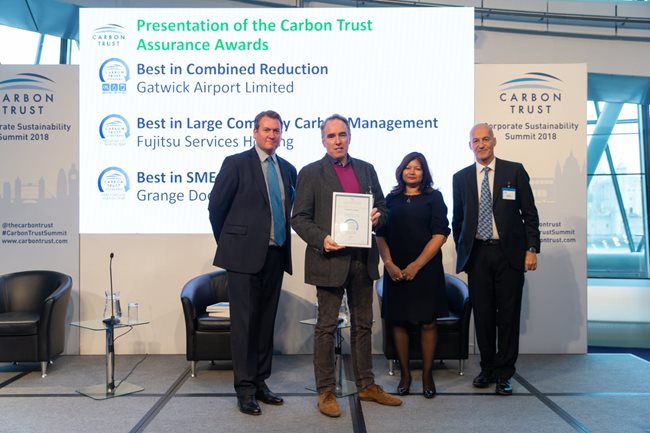 Hugh Jones, Managing Director of Business Services for the Carbon Trust said, "Grange Door Systems has held the Carbon Trust Standard for a decade now, showing a longstanding commitment to carbon emissions reduction. This award reflects an excellent management approach and a successful continuing investment into environmental improvements, setting an example for how businesses should be taking action on climate change".

It's not the first time that Grange Door Systems' commitment to carbon reduction and their strong environmental credentials have been recognised; they have been awarded certification to the Carbon Trust Standard for Carbon five times, they won the VIBES Award 2013 for Energy Management and they were a Finalist in the Finance for the Future Awards in 2015.

For more information please contact Kevin Reilly, at Grange Door Systems on 0131 440 7000 or Paul Adderley at Beyond Green on 0131 624 9816.