Rexel Achieves ISO 45001 Certification
11 December 2018
The wholesale electrical supplier Rexel has achieved the new internationally recognised ISO 45001 occupational health and safety standard with NQA.
Rexel began its certification journey with NQA in 1994 and has previously been successfully certified for: environmental management system (ISO 14001); quality management system (ISO 9001), energy management system (ISO 50001) and health and safety management system (OHSAS 18001).

The ISO 45001: Occupational health and safety management systems – Requirements with Guidance for Use' standard was published today in March by the International Organisation for Standardisation (ISO).

It sets out to provide a robust and effective set of processes for improving work safety in global supply chains and is the world's first International Standard for occupational health and safety.

Designed to help organisations of all sizes and industries, ISO state that the new International Standard is expected to reduce workplace injuries and illnesses around the world.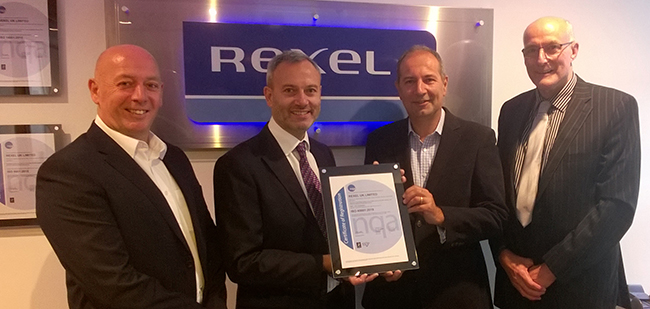 Businesses with the OHSAS 18001 are required to migrate to ISO 45001 to maintain the validity of certification within a three-year period.

"We are delighted to have achieved this certification and it certainly is a testament to the team's hard work in defining clear management structures, objectives for improvement and a structured approach to risk assessment and reduction," said Rexel's Head of Safety, Quality & Environment, Clive Bolland.

Laura Fletcher, Commercial Director at NQA added: "Rexel is setting an example and leading their industry in a new and exciting direction. Successfully migrating their OHSAS 18001 certification to the new ISO 45001 standard so efficiently shows remarkable determination and leadership. Congratulations from all at NQA."