Guide to the AS9100 Standard
06 September 2022
AS9100 works in conjunction with ISO 9001, an industry non-specific standard that sets the most basic quality management system requirements, adding additional requirements that apply specifically to the aerospace industry.
AS9100 Standard & Certification: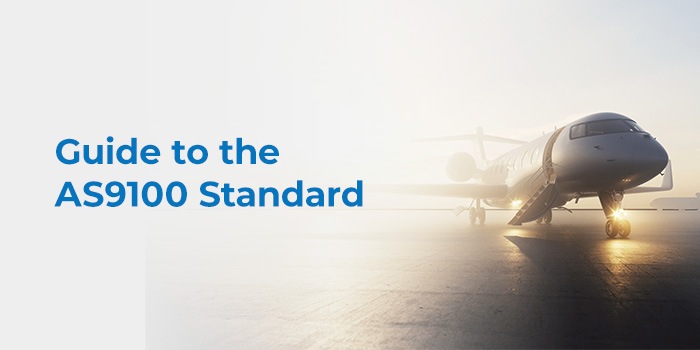 What is the AS9100 Standard?
AS9100:2016, alternatively referenced as AS9100D, ENG 9100:2016 or simply AS9100, is a standard that applies to the quality management system requirements of aerospace organizations. The International Aerospace Quality Group (IAQG) compiled the standard itself, collecting input from representatives in aviation, space and defense-related entities to create a quality standard that effectively reduces organizationally-unique requirements, implements effective quality management systems and defines industry-wide good practices. These actions effectively guide all levels of an organization's supply chain to perform more consistently regarding quality, cost and delivery.
The standard works in conjunction with ISO 9001, a general industry standard that establishes foundational quality management system standards. AS9100 builds upon the requirements of ISO 9001, adding over 100 requirements that apply specifically to the aerospace industry. Some of these additions include:
Additional configuration management
Special risk management
Industry-critical items
Increased focus on timely delivery
Focus on product management
Approval process and scope for suppliers
Prevention of counterfeit parts
These quality standards have become increasingly popular to such a degree that most global aerospace manufacturers and suppliers will only work with AS9100-certified partners.
Since October 1999, the AS9100 Aerospace Management Systems has been a useful quality management system standard for the aerospace industry. Originally introduced by the American Society of Automotive Engineers and the European Association of Aerospace Industries, the document was subsequently picked up by the International Aerospace Quality Group as a method of maintaining industry quality levels on a global scale.



AS9100 also refers to a series of quality management system documents used for different groups within the aerospace industry. These individual specifications include:
AS9100: A general aerospace industry standard that encompasses the requirements of ISO 9001 in addition to industry-specific requirements for quality and safety. This document defines the standard for quality management systems within the aerospace industry and is intended for use by organizations that design or provide products and services.
AS9110: Also known as the Aerospace Management System for Maintenance, Repair and Overhaul (MRO) Stations, this standard is based on AS9100 and includes maintenance-specific requirements that relate to the processes of maintaining a commercial, private or military aircraft. MRO suppliers often seek this level of certification as a way to maintain an additional layer of control in their processes.
AS9120: This standard is also known as the Aerospace Management Systems for Stockist Distributors. Again based on AS9100, AS9120 includes specific requirements for aerospace-related organizations that work in the sourcing or production of parts and materials. These types of organizations include those that resell, distribute and warehouse aircraft and aerospace parts and components. They are often called stockist distributors because they act as intermediaries between a manufacturer and a retailer. AS9120's additions include considerations related to the chain of custody, product traceability and control of records.
Like all standard changes, the release of the new AS9100D standard means that AS9100C-certified aerospace organizations will need to become certified in the new standard as quickly as possible. The deadline for this particular transition was September 15, 2018, the same as the ISO 9001:2015 deadline. All AS9100C and ISO 9001:2008 certifications are now expired with no option for renewal.



Preparing to transition from AS9100C to AS9100D involves substantial work, both to understand the key changes between the two standards and to implement them appropriately in their business.
Is AS9100 Right for Your Organization?
The AS9100 standard can provide a lot of benefits, but is it the right standard for your organization? It was developed with the ASD industries in mind, but companies in other industries that have additional requirements beyond ISO 9001 can benefit from using it as well. Some of the industries that most commonly use AS9100 include:
Companies that manufacture aviation, space and defense products
Companies that manufacture specialized aerospace components
Companies that supply materials to aerospace product and component manufacturers
Quality management organizations that work with aerospace manufacturers
Companies that design ASD products or components
Distribution centers for aerospace products
If your company falls into one of the above groups or works in another area in and around the aerospace industry, you may benefit from using AS9100. Depending on which part of the aerospace sector your company is a part of, you may want to work with another standard in the AS9100 series, such as AS9110 or AS9120.
The AS9100 Series and ISO 9001
Like the majority of industry quality management system standards, AS9100 was written and designed to work alongside the most recent version of ISO 9001, just as its previous iterations. When considered together, the two standards define the quality management standards of the aerospace industry as a whole, from the most loosely affiliated companies to international aerospace and defense corporations.
They work to standardize the development, production, installation and provision of aerospace products and services. The complementary nature of these standards, therefore, means that any organization seeking AS9100:2016 certification must first comply with ISO 9001:2015.



Some of the most important alterations between the 2008 and 2015 iterations of ISO 9001 that directly relate to AS9100 include:
A 10 clause structure based on the Annex SL formatting model
An increased focus on external processes, products and services
An expanded focus on stakeholder satisfaction and company performance
An improved approach to risk-based thinking and risk mitigation
Be warned, however, that companies with current AS9100C certification must seek recertification in ISO 9001:2015 and AS9100:2016 simultaneously. Because AS9100C was designed to work in tandem with ISO 9001:2008, obtaining certification in ISO 9001:2015 will automatically nullify AS9100C.
Put simply, to maintain both certifications simultaneously, you must seek recertification in both standards at the same time.
Key Differences in the New AS9100
Because the AS9100 series of standards requires conformance with ISO 9001:2015, several changes between the C and D versions of AS9100 are structural in nature. AS9100 now more closely mimics the structure of ISO 9001:2015, using the new 10-part structure, making it easier for organizations to use the two standards together.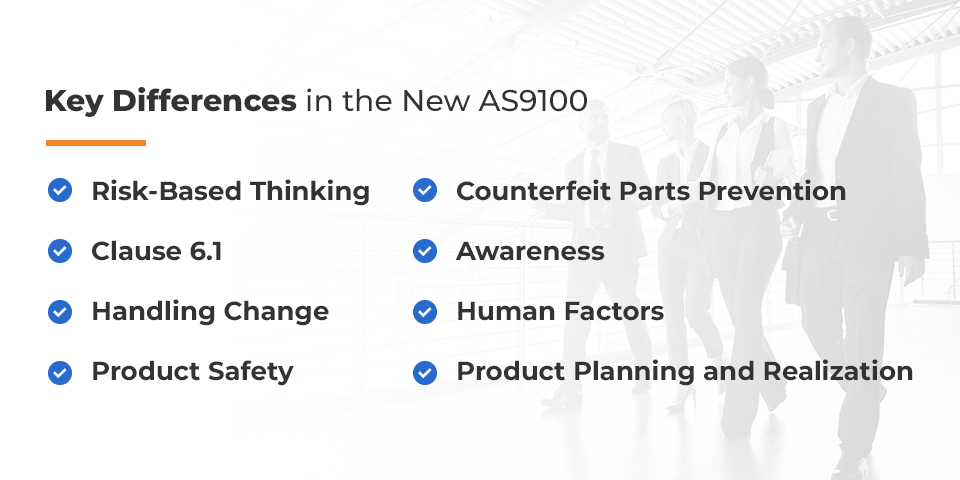 Beyond this basic difference in structure, AS9100 also includes several changes in content and focus. Some of these mimic the focal changes between the 2008 and 2015 iterations of ISO 9001, while others focus more on the changes within the industry between the C and D publications. The new standard focuses add clarity and enhance the efficacy and practicality of the standard itself while simultaneously addressing the new needs of the industry and its stakeholders.
Some of these changes are listed below, with the more extensive changes explained further on in this text.
Key changes to the AS9100 standard include the following:
Risk-based thinking: ISO 9001 has always focused a great deal on the concept of risk, but it is a new focus for the 2016 version of AS9100. The new standard has risk mitigation practices incorporated into the core of the management system described within, ensuring organizations focus on risk from day one and on throughout the operational process. This makes the system more effective at preventing against and planning for risk.
Clause 6.1: This clause has been improved and replaced in the AS9100 system by Clause 8.1.1. The clause, which relates directly to risks in the quality management system by way of new customers, markets, partnerships and localizations, has been redesigned to be more applicable. Risk mitigation techniques described in the new clause include contract review and signature requirements, new technology handling processes and an external provider selection system.
Handling Change: The new AS9100 provides a more concrete framework for handling and controlling changes in the industry. The framework helps organizations evolve and adapt to their changing environments and circumstances. This framework also helps organizations maintain some level of business continuity regardless of the degree of change by considering and accounting for its effects and appropriately preparing.
Product safety: An entirely new and separate clause has been added to AS9100 relating to product safety, and extra sections relating to product safety have been included where appropriate. These product safety requirements specifically address safety considerations throughout the product lifecycle, including through the manufacturing process.
Counterfeit parts prevention: Included in a separate clause of its own, as well as in other related clauses, this addition to AS9100 provides requirements relating to the mitigation and prevention of counterfeit products. These requirements include steps to help combat the acceptance of counterfeit or fraudulent products in AQMS processes.
Awareness: The 2016 edition of AS9100 includes reinforced requirements for individuals to be aware of their contribution to the system. This awareness not only involves their contribution toward the quality of the product but also toward the safety of the product, the risk involved in the process and the ethical behavior of the business as a whole.
Human factors: AS9100 recognizes human error as the leading cause of nonconformities in the products or processes produced by a company. The new standard requires companies to closely consider the human factors that could be affecting their processes, consider the interactions between humans and between humans and machines and how such interactions could impact human performance in the organization's processes. These human factors can be anything from physical and psychological health to personality, stress or fatigue.
Product planning and realization: The process of planning products is detailed more closely in AS9100, clarifying and expanding on certain points that were unclear in the previous version. Of particular note is the addition regarding obsolete products and how to handle them in the product planning process.
Applications of AS9100
The AS9100 standard was primarily developed with the aviation, space and defense industries in mind. However, this standard has also historically been used in some other industry sectors, especially those where a quality management system beyond ISO 9001 may be necessary. This description covers a wide spectrum of companies working in and around the aerospace industry, including the following organizations:
Manufacturers of aviation, space or defense products
Manufacturers of specialized aerospace parts
Material suppliers for aerospace product and part manufacturers
Quality management organizations working with aerospace manufacturers
Aviation, space or defense design centers
Aerospace product distribution centers
Other organizations that work in and around the aerospace industry
The AS9100 Timeline
The transition to the AS9100 standard series involves a strict timeline, starting from the publication of each of the new standards. The end of the transition ends with the complete conversion over to the new standard. This timeline is detailed below:
September 2016: AS9100D Release: AS9100D was released on September 20th, 2016, starting the transition process from the old AS9100C.
November 2016: AS9120B and AS9110C Release: Both variations of AS9100 were released in November of 2016, AS9120B on the first, AS9110C on the fourth. By the end of November, training for auditors was available.
June 2017: Updated Auditor Requirements: As of the 15th of June, all auditors must be certified to operate under the new standards, and their accreditation must include AS9100 series criteria. All audits after this date must be conducted using these new standards, with exceptions for special audits.
September 2018: Transition Completed: As of September 15, 2018, all certifications for AS9100C and ISO 9001:2008 standards are null and void. Any users still holding these certifications are no longer certified to either standard.
If your company holds a certification for either AS9100C or ISO 9001:2008, your certification status has been revoked. You will need to obtain a new certification, which will resemble the process of becoming certified for the first time.
How to Implement AS9100
Implementing the new AS9100 standard requires a great deal of preparation and work for aerospace companies, including altering their work processes to fit the new standards. Organizations planning to undertake this transition can appropriately prepare with an action plan.



The following action plan details how to achieve AS9100 certification.
1. Learn About the Requirements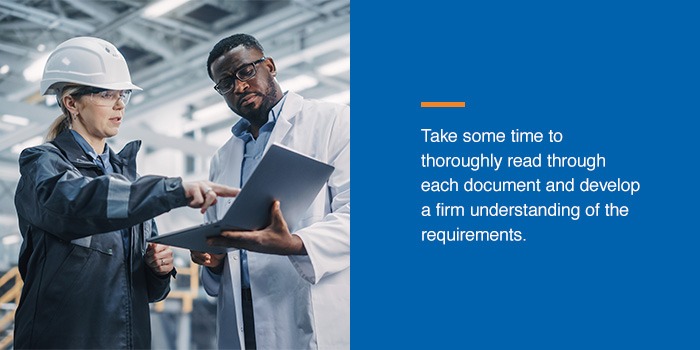 Once you've decided to pursue AS9100 certification for your organization, you'll need to obtain copies of AS9100D and ISO 9001:2015. You'll also need to procure copies of any supporting documents, such as AS9101, which defines the requirements for preparing for and executing the audit process.
Take some time to thoroughly read through each document and develop a firm understanding of the requirements — familiarity with the requirements will help the transition process go more smoothly. At this time, your organization may also want to start looking into auditing resources and procedures.
2. Perform a Gap Analysis
A gap analysis, sometimes called a pre-audit, involves comparing your company's current practices to those required by the standard to which you're seeking certification. This evaluation reveals the gaps between where your company is and where it needs to be to achieve certification, which will inform your implementation strategy.
You can perform a gap analysis by following these steps:
Compare your current quality management system to the standard's requirements.
Document where your system complies and does not comply with the standard's requirements.
Discuss with management what to include in the project plan based on the results of the gap analysis.
At the conclusion of the gap analysis, the assessor will produce a report that typically includes:
Where your company already conforms to the standard's requirements.
Where your company is not complying with the requirements.
Recommendations that may form the foundation of the implementation plan.
Using this information, you can pinpoint any missing processes or steps in your current system and create a project plan to address these gaps.
3. Plan for Implementation
The next step is to use the results of your gap analysis to begin planning how to implement AS9100 in your organization. This plan should include specific, quantifiable goals, along with realistic deadlines.
When creating your plan, you will design and document your quality manual and procedures. A significant portion of completing this step is looking at your current processes and redesigning them to meet the requirements of AS9100. You will need to establish methods for controlling these processes, including documentation.
Look at the items emphasized in AS9100 and ensure that you include them in your plan. Some of the items that AS9100 focuses on include having a structured and thorough plan, defining the data needed for relevant processes, designing review authorization and controlling test processes.
Your implementation plan should include details about each task that needs to be accomplished to ensure full compliance with AS9100. For each task, you should list the following:
The relevant section of AS9100
Required documentation
The person or team responsible
Necessary approvals
Required training
Necessary resources
Estimated completion date
Your plan should also cover the costs of certification and implementation, as well as the benefits. This information will help you to plan for the costs, justify expenses and earn buy-in from management and employees.
4. Design Documentation
Controlling processes through documentation is a key part of AS9100 implementation. Once you have developed or modified your processes to comply with the standard, you will need to document them as quality system procedures. Your documentation will help guide your processes and enable you to verify compliance. You can design your documentation to meet the unique needs of your organization, as long as it also meets the requirements of the standard.
It can be helpful to start with the minimum requirements for documentation. Include your documentation in your implementation plan and develop additional documentation as needed.
5. Train Key Personnel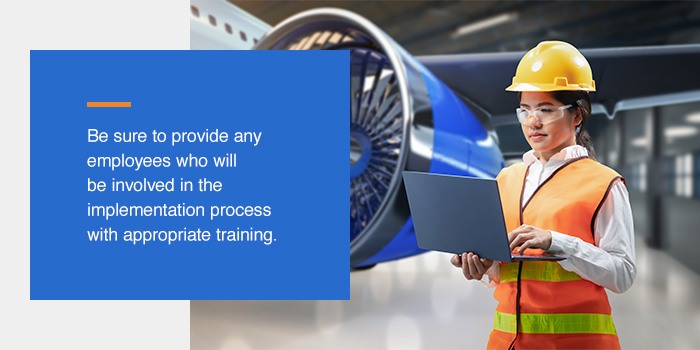 To ensure a smooth implementation process, you need to inform all your employees about the decision to implement AS9100, how it will affect them and what they should expect during the process. It's also important to provide information about the benefits of certification, as doing so can encourage buy-in.
Additionally, be sure to provide any employees who will be involved in the implementation process with appropriate training on both the AS9100 and ISO 9001:2015 standards. Give your staff adequate time to complete this training before beginning implementation, and make sure to brief them on:
The implementation plan
How the plan fits the new standards
Their role in the plan
6. Begin Implementation
Use the implementation plan and personnel to complete all the updates identified in your gap analysis. This process will naturally vary from company to company based on your individual circumstances.
Run your quality management system according to plan for several months, carefully monitoring the process. Be sure to double-check all changes for appropriate implementation. If problems arise, address them immediately and change the implementation plan as needed. Collect and store all evidence and documentation of the changes made — this information is required for most auditing processes.
Conduct initial audits to identify potential improvements and to help prepare for certification. Develop an initial AS9100 audit checklist and use it to evaluate the areas in which your system is working well and the areas in which it requires improvement. Check that your processes comply with AS9100. Document the results of your initial audits and use them to make adjustments as needed.
7. Choose a Certification Body
Once you have run your quality management system for some time and have conducted initial audits, you can start looking into third-party certification bodies (CB). Explore the accreditations and experience of each certification body and evaluate what they offer.
You should look for one with the following qualities to increase the value of the audit and certification process:
Proper accreditation
Experience with AS9100 certification
Intention to use their audits to help you improve your organization
After you've decided on a CB, you will need to fill out an application form with them. Make sure to include information about your company, the standard you're seeking certification to and any other applicable requirements in your application.
If you're working with NQA, you can use either our quick quote form or formal quote request form. We use the information you provide to define the scope of the assessment you need and provide a proposal for certification.
8. Audit and Certify
Once you've scheduled an organizational audit with your chosen auditor, you'll begin the audit process, which we explain in more detail below.
9. Maintain Your Certification
To remain certified, you must complete an annual surveillance audit and a recertification audit every three years.
A surveillance audit is a partial audit that verifies your organization's compliance with the requirements of your chosen standards during the three-year certification cycle. During surveillance audits, you must demonstrate proof of the continual improvements you have been making to your system. The duration of your surveillance audits will depend on the size and structure of your organization, the risk and complexity involved in your activities, the number of standards included in your certification and the number of sites that fall under the scope of the certification.
Businesses evolve over time. Your organization may add or remove locations and activities, increase or decrease the size of your staff or make other changes. If you make any such changes during your three-year certification period, alert your certification body as soon as possible. You can then adjust your management system, the scope of your certification or other elements of your program.
Auditing for AS9100
If your company decides to work with NQA as its auditing partner for your AS9100 certification, you can apply for registration through our Quote Request Form. This form provides us with basic information about your organization so we can judge the scope and scale of the assessment, which consists of two mandatory visits for the Initial Certification Audit. After this initial certification, NQA maintains your company's certification through annual surveillance audits and three-year recertification audits.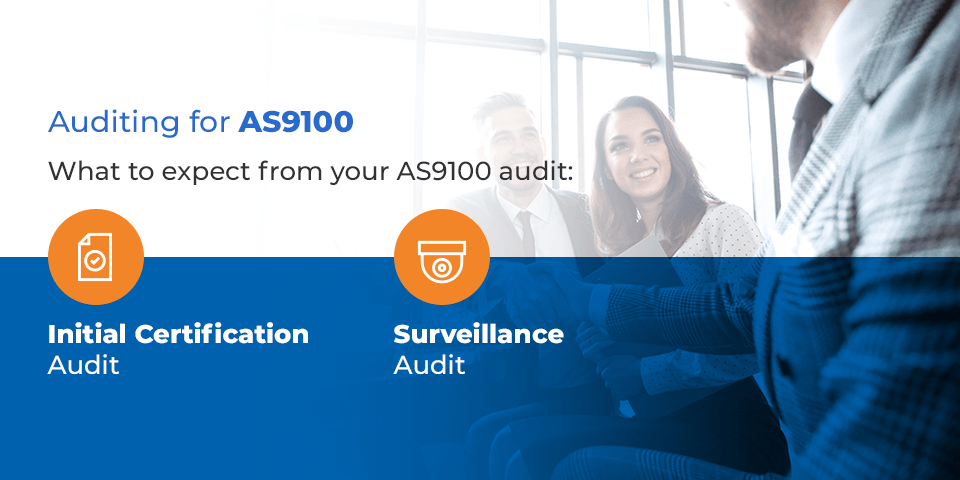 We describe these audits in more detail below so you can know what to expect:
1. Initial Certification Audit
This audit is used by auditing resources to confirm that your organization is ready for a full assessment. During the first stage of this assessment, the auditor will:
Verify that the information your organization submitted during the application process is accurate
Confirm that you have been running your management system for a minimum of three months
Verify the scope of your certification
Ensure legislative compliance
After this first stage of the initial certification audit, the auditor will create an assessment plan for the organization in question and confirm a date for the second assessment visit. This second assessment visit is meant to confirm that the organization's quality management system completely conforms to all AS9100 requirements. During this stage of the initial audit, the assessor will:
Confirm that the management system conforms to the requirements of the standard
Confirm the implementation status of the standard
Confirm the scope of certification sought by the organization
Check the legislative compliance of the organization
Produce a report identifying any non-compliance or opportunities for improvement and discuss appropriate corrective actions with management personnel
Undertake sample audits of those processes defined by the certification sought
Document a system's compliance with objective evidence
Report any non-compliances, as well as opportunities for improvement
Produce a plan for surveillance and agree on a date for the first surveillance visit with management personnel
2. Surveillance Audit
Surveillance audits usually occur annually to ensure an organization has maintained compliance with a particular standard. However, the frequency of surveillance audits can vary depending on the following factors:
Structure and size of the organization
The complexity of actions and their associated risk
Number of quality management systems seeking certification
Major Changes to the AS9100 Series
Over the past five years, the aerospace industry has undergone many changes, especially in the sectors relating to space and defense. The extent of these changes has significantly affected the needs of stakeholders in the aerospace industry, including customers, suppliers and manufacturers. These changes have then resulted in what is in the AS9100 series. Just a few of these industry changes include:
New risks in the supply chain, especially concerning product safety
Increased risks associated with human factors
New process approaches
Increasing incidence of fraudulent parts in the supply chain
Expanded needs for methods to manage organizational knowledge and industry changes
AS9100 adapted to meet these industry needs, leading to the changes detailed below. When combined with the standard framework of the AS9100, these changes help improve the standard of quality across the aerospace industry:
1. High-Level Structure and Terminology
The language and structure used in AS9100 have changed significantly to fit the language employed in the new ISO 9001 standard, substantially improving consistency. Language is now clearer and more simplified to help aid the understanding and consistent interpretation of readers. The structure also changed considerably, shifting from the 8-clause format of ISO 9001:2008 to the 10-clause format of the 2015 iteration. This business-strategic format provides a more coherent presentation of the requirements for organizations to implement in their daily operations.
The new structure follows this format:
1. Scope
2. Normative references
3. Terms and definitions
4. Context of the organization

4.1. Understanding the organization and its context
4.2. Understanding the needs and expectations of interested parties
4.3. Determining the scope of the quality management system
4.4. Quality management system and its processes

5. Leadership

5.1. Leadership and commitment
5.2. Policy
5.3. Organizational roles, responsibilities and authorities

6. Planning

6.1. Actions to address risks and opportunities
6.2. Quality objectives and planning to achieve them
6.3. Planning of changes

7. Support

7.1. Resources
7.2. Competence
7.3. Awareness
7.4. Communication
7.5. Documented information

8. Operation

8.1. Operational planning and control
8.2. Requirements for products and services
8.3. Design and development of products and services
8.4. Control of externally provided processes, products and services
8.5. Production and service provision
8.6. Release of products and services
8.7. Control of nonconforming outputs

9. Performance evaluation

9.1. Monitoring, measurement, analysis and evaluation
9.2. Internal audit
9.3. Management review

10. Improvement

10.1. General
10.2. Nonconformity and corrective action
10.3. Continual improvement
2. Risk-Based Thinking
Risk-based thinking is the concept of taking preventive action within a business' processes. The AS9100 standard, like the ISO 9001 standard, now addresses risk identification and mitigation throughout a business' quality management systems to minimize both nonconformance and product safety concerns. The new rule uses the following model to promote the implementation of these risk-based strategies:
Use a risk-driven approach throughout the company, from managerial levels down to entry-level employees, focusing on methods of engaging employees
Identify and prioritize the risks in the organization, which differ between different companies and their products and processes
Determine and assess acceptable and unacceptable risks within the organization
Develop an action plan to address any unacceptable risks, avoiding, eliminating or mitigating them when possible
Implement the plan, involving every applicable employee level in the implementation process to improve chances for success
Assess and react to a plan's success or failure and adjust the action plan as needed.

Using risk-based thinking can help an organization be more proactive, refocus on value-added company priorities and improve employee preparedness. It can also help reduce nonconformance and product or process safety concerns.
3. Process Approach
A process approach, simply put, is the management of processes and their interactions to achieve concrete results. These methods are integral to the operation of a business, as they are the processes that turn input into the output or otherwise improve other processes within the organization. Within AS9100, process approaches are more tightly defined and handled.
Companies must define their critical business processes as per the requirements of AS9100, listing inputs, outputs and sequences along with associated risks and opportunities for improvements. These processes are then audited for certification. Under AS9100, organizations must carefully watch these processes for improvement opportunities, using methods like risk-based thinking and the PDCA cycle:
These progress-focused process approaches in the AS9100 help businesses improve accountability and process integrations on a continuous basis:
Risk-based thinking: This type of process approach emphasizes designing processes with risk in mind, minimizing nonconformance and other problematic results.
PDCA: Also known as the Plan, Do, Check, Act cycle, this cycle is a management method where the designer plans out actions to achieve a goal, does the plan, checks the success of the plan and then acts to improve the original plan, continuously running through a cycle of assessment and improvement.
4. Change Management
Change has become a constant part of the aerospace industry over the past several years, and in response, the AS9100 was written with a dynamic framework for handling such change in the future. Change is addressed in several clauses, including the following instances:
This framework helps organizations manage their business with improved continuity and integrity, regardless of the size or scope of the change.
Planning and implementing changes to a quality management system (6.3)
Addressing changing needs and trends in organizational knowledge (7.1.6 )
Controlling operational changes, both planned and unintended (8.1)
Ensuring appropriate actions are taken to handle changes in requirements for products and services (8.2.4)
Managing changes relating to design and development (8.3.6)
Addressing changes affecting production or service (8.5.6)
5. Knowledge Management
Organization-specific knowledge is an asset that has grown exponentially more valuable over the past few years with advances in technology. Loss of knowledge can occur through staff turnover, data losses or mere failure to capture or share information, so proper management is essential. Secured databases and improved communication methods are just a few ways businesses can implement appropriate knowledge management in their processes.
6. Product Safety
A new clause (8.1.3) has been added to AS9100 on the topic of product safety, which is defined in the document as "the state in which a product can perform to its designed or intended purpose without causing an unacceptable risk of harm to persons or damage to property." The new version of the standard requires organizations to identify and address product safety considerations throughout a product's lifecycle, performing appropriate safety analyses.
Any risks, such as those related to machinery, human factors or others, should be accounted for and managed appropriately. As part of these requirements, any events related to product safety that has occurred should be recorded, analyzed and, when possible, acted upon to prevent future incidents. Such actions help to minimize safety risks and improve organizational awareness of product safety concerns.
7. Counterfeit Part Prevention
Another new clause, (8.1.4), added to AS9100 includes requirements for preventing the sale or trade of counterfeit parts. These counterfeit parts are defined as unauthorized copies, imitations, substitutes or modifications of a part that are knowingly misrepresented as a genuine part from an authorized manufacturer.
With counterfeit or fraudulent products on the rise, mitigating their effects on the industry has grown increasingly important. AS9100 lists methods and processes for handling such fraudulent parts, such as improved training, controls for acquiring parts, improved part traceability measures and verification methods. Any counterfeit parts should be reported. Such measures help minimize the opportunities for deception and prevent the entrance of counterfeit parts into the supply chain.
Reasons for the 2016 Updates
All standards go through regular updates every five years or so to bring them up to speed with current industry technology and issues. The 9100 series, including AS9110, AS9120 and AS9115, has been updated to accomplish the following major goals:
Incorporate structure and content changes from the 2015 revision of ISO 9001
Consider the new needs of aviation, space and defense stakeholders since the last revision using web survey results and industry knowledge
Add any clarifications to the 9100 series as requested by IAQG users since the last revision

In addition to these basic changes, the AS9110 standard incorporated changes relating to the scope of design and development activities.
Benefits of AS9100 Certification
If you're eager to improve your quality management systems with an excellent ISO 9001-based standard, the AS9100 standard can easily be integrated into your existing quality management system. The standard is extremely useful for any business working in or around the aircraft and aerospace industry. Since its establishment in 1999, the AS9100 standard has been embraced as a quality-improving tool for the aerospace industry as a whole and is even required by most aircraft engine manufacturers to do business with them.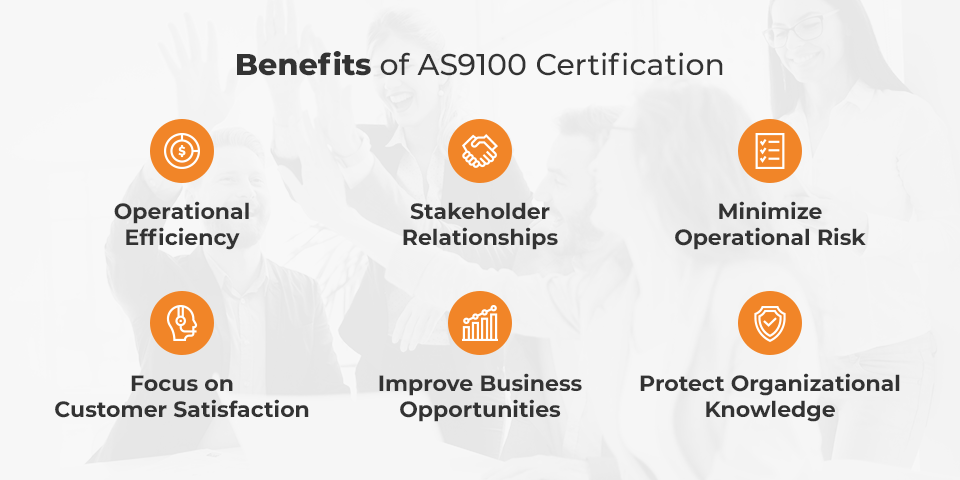 The benefits of AS9100 certification for globally-minded businesses include:
Improve operational efficiency: The focus on process management and improvement means that implementing AS9100 in your business can help improve your organization's efficiency. Find new ways to save money by producing more product at a lower cost.
Stakeholder Relationships: If you want to improve your company's image in the eyes of your staff, customers and suppliers, demonstrating compliance with a respected industry standard is a good place to start.
Increase visibility: AS9100 is an internationally recognized quality standard. The IAQG also enters all certified companies into its Online Aerospace Supplier Information System (OASIS) database, increasing their visibility across the industry.
Minimize operational risk: Risk-based thinking like that required by AS9100 helps your organization develop and implement the best practices for the aerospace industry, improving process quality and product traceability to help reduce risk and improve product safety.
Improve your bottom line: AS9100 certification can help you to bring in more business and retain your current customers. It also helps you to make your processes more efficient and continually improve them, which reduces your operating costs.
Focus on customer satisfaction: Improve your relationships with your customers by offering products that consistently meet or exceed their quality expectations and are delivered promptly.
Improve business opportunities: Access a wider range of global markets by obtaining an internationally recognized certification. Many aerospace manufacturers refuse to do business with anyone without an AS9100 certification, so obtaining one gives you access to those big names while simultaneously improving your marketability.
Protect organizational knowledge: Knowledge is one of the most important resources to aerospace businesses, so protecting it is key. Using the requirements and guidance of AS9100, you can better safeguard your organization from information losses and simultaneously improve your organization's use of knowledge.
Getting Certified for AS9100
ISO certification can be a difficult process, involving a great deal of effort for you and your business. However, the benefits of certification, especially for AS9100D certification, are substantial for any aerospace-related business. If you know you can benefit from AS9100D certification but find the prospect of transitioning your processes daunting, there are resources available to make the process easier. One of these resources is NQA.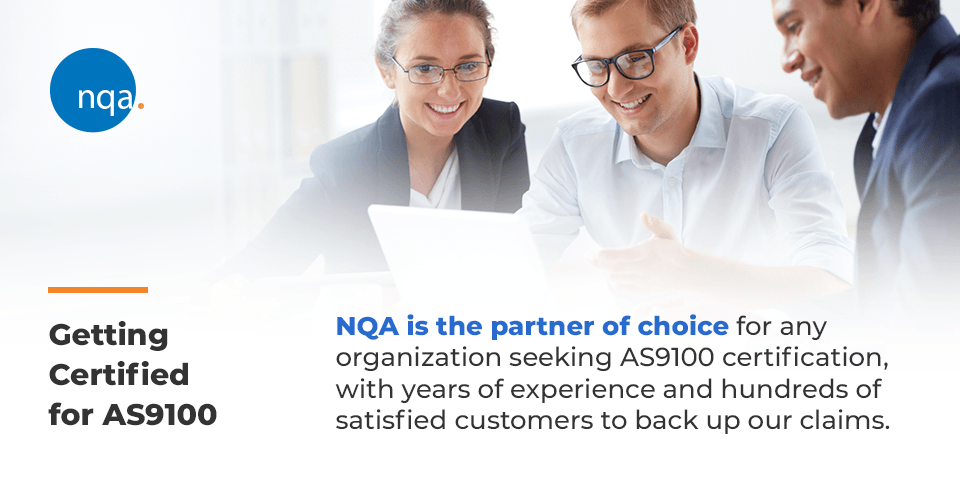 NQA is one of the best auditing services in the world, offering quality auditing services backed by years of experience. At the last count, we have conducted over 35,000 certifications across 70 countries, giving us the extensive experience to help you with any questions you may have about the transition or auditing process.
NQA is the partner of choice for any organization seeking AS9100 certification, with years of experience and hundreds of satisfied customers to back up our claims. We are dedicated to providing the best and latest information about industry standards, involving ourselves in several industry committees and standards writing teams so we can stay on top of changes in the industry.
Choose a team that will work with your organization instead of applying a one-size-fits-all approach. NQA offers customized suggestions to improve your organization's specific processes and procedures, so you do not need to waste time implementing useless tasks. Even better, if you have questions about the processes prescribed to you, our customer service representatives can ensure you get the quick feedback you need, regardless of how far you are through the registration and auditing process.
Contact NQA today to speak to a certification specialist about your interest in AS9100D and your certification requirements. You can also fill out our free Quick Quote form today, and a member of our team will respond within 24 to 48 hours.

Reviewed by: Archie Gemmell, NQA Aerospace & Defense Sector Manager (AEA) 9/6/2022